Penrith leads the way to Cool the City
Details

Written by

Philippa Borland

Penrith City Council

(02) 4732 7777

(02) 4732 7958

council@penrithcity.nsw.gov.au

https://www.penrithcity.nsw.gov.au

601 High St

Penrith

NSW

2750

Australia

Wednesday, 19 February 2020
Penrith City Council's Cooling the City Masterclass and Homes and Heat community talk held on Tuesday, as part of its Cooling the City strategy, has been hailed a runaway success.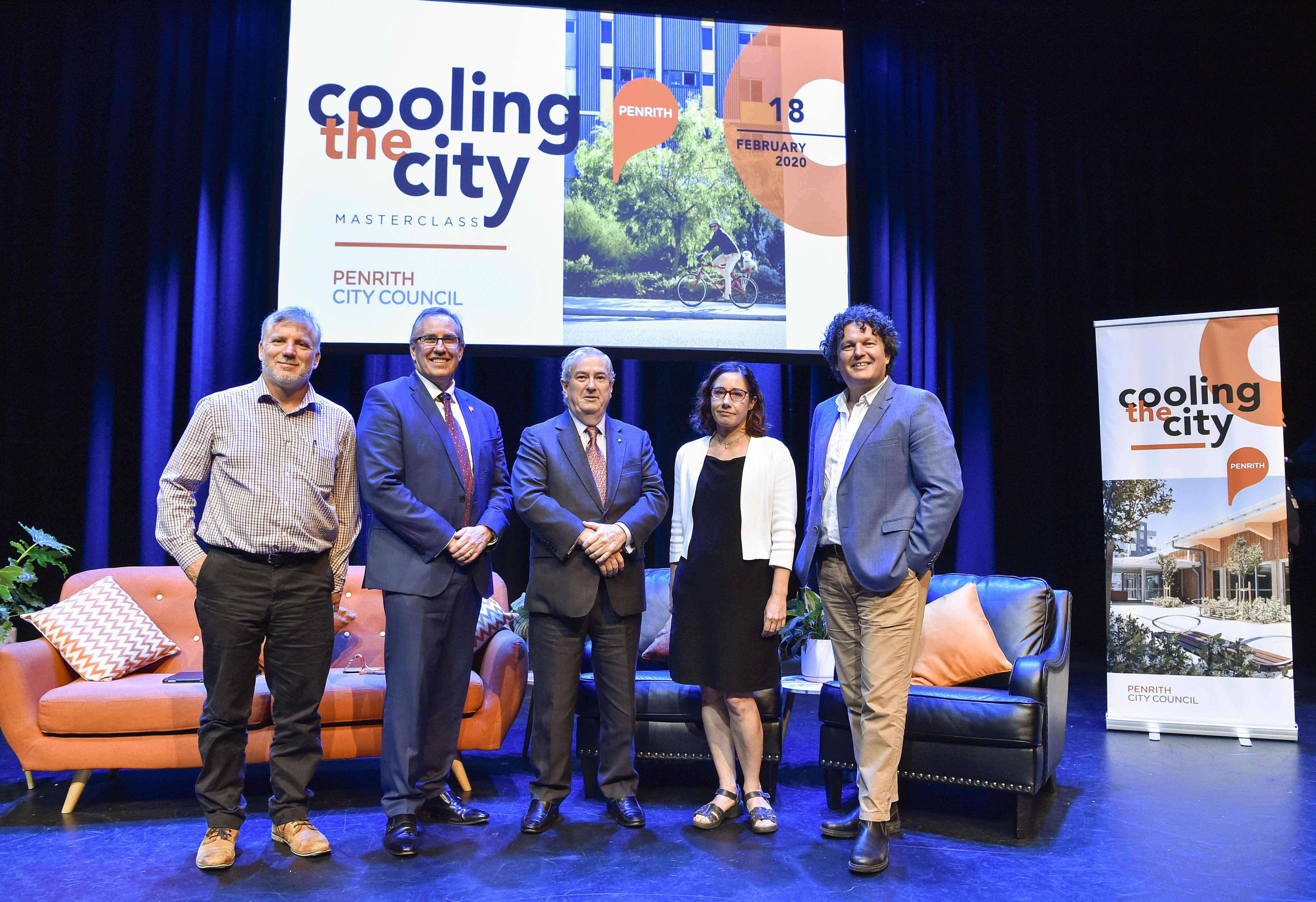 Over 300 leading built environment professionals attended the sold-out daytime Masterclass event, held at the Joan Sutherland Performing Arts Centre, to explore innovative heat reduction strategies to help tackle Sydney's urban heat dilemma.
Masterclass attendees heard from leading scientists, International, National and Local academics, sustainability experts, green champions, as well as industry leaders.
"We were delighted by the industry and government response to this event, as well as the constructive and innovative dialogue that was generated about real-world solutions to urban heat," said Penrith Mayor, Ross Fowler OAM.
"Council wanted to bring a range of National and International perspectives to this discussion to look at how greener development can still work for business to create cooler urban spaces. It's vitally important, because we know that the 'business as usual' approach to development is not the answer to ensuring Penrith's future liveability," he added.
The evening event for community members looking for help to cool their homes – Homes & Heat: Inspirational Design, Building & Retrofit Solutions – was also filled to capacity.
"We originally planned to hold this free event at Penrith Library in a room that fitted 70 people, but when it was booked out within days, we quickly changed the venue to accommodate more people," said Cr Fowler.
"We are absolutely delighted that over 300 people attended the evening to hear from sustainability experts about how to beat summer heat in their homes without incurring crippling energy bills. Feedback from participants was overwhelmingly positive, both from those planning to build new homes and those in existing dwellings," he added.
For those that may have missed out, videos of presenters at Council's Cooling the City events will be available soon. To stay in touch, please subscribe to the Cooling the City Masterclass e-news on Council's website here: penrith.city/coolingthecity
Image: Dr Simon Toze (CSIRO), Warwick Winn (General Manager, Penrith City Council), Cr Ross Fowler OAM (Mayor of Penrith), Dr Diane Pataki (University of Utah) and Dr Josh Byrne (Josh Byrne and Associates)
Information contained within this news release was correct as at Wednesday, 19 February 2020.