Sports Upgrades
Details

Written by

Teela Griffin

Penrith City Council

(02) 4732 7777

(02) 4732 7958

council@penrithcity.nsw.gov.au

https://www.penrithcity.nsw.gov.au

601 High St

Penrith

NSW

2750

Australia

Harold Corr Athletics Track Upgrade
Penrith City Council will soon commence construction works at Harold Corr Oval in Herbert St, Cambridge Park. The existing grounds are set to be upgraded into a quality athletics precinct featuring an all-weather synthetic track – the first of its kind in the Penrith Local Government Area.
The Harold Corr Athletics Track Upgrade is a $5 million project jointly funded by Council and through the Penrith Sport Election Commitment Program. The Australian Government has also contributed to the works. The project will be staged in line with funding availability. The first stage will deliver:
a synthetic athletics track and field facility
floodlighting, and
formalised carpark.
The upgrade of the site will have several benefits for the City; this project will improve the access and quality of the facility for athletics clubs and schools whilst encouraging greater sporting participation and recreation opportunities for residents.
Construction is planned to commence early September 2021 and the project is due for completion by 30 September 2022. Please note, the start date may be delayed pending changes due to the evolving COVID-19 situation.
Harold Corr Oval will be closed to the public for the duration of works. Council is working with the contractor to minimise disturbances for residents including restricting construction noise to between 7am and 6pm, Monday to Friday, and 8am to 1pm on Saturday.
Other nearby parks and reserves, including Shaw Park and Werrington Lake Reserve, Cambridge Park will be open and accessible for community members during construction.
For more information, email This email address is being protected from spambots. You need JavaScript enabled to view it.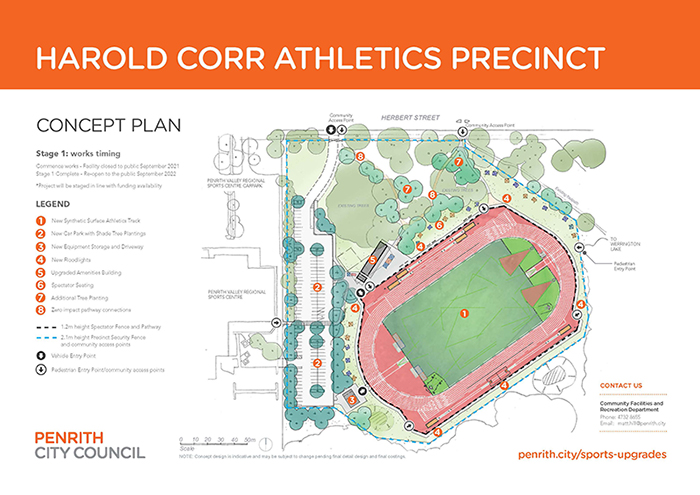 Jamison Park's multi-use synthetic sports facility
Work is nearly complete on a $3.7 million multi-use synthetic sports facility at Jamison Park that will increase capacity and provide year-round playing surfaces for a number of sporting codes.
The project forms part of Council's Sports and Recreation Strategy and is jointly funded by Council and the NSW Government through the Greater Sydney Sports Facility Fund. Nepean Football Association has also contributed to the works.
The upgrade will deliver:
2 synthetic rectangular football (soccer) fields which can accommodate 8 small sided fields
a synthetic cricket wicket
a synthetic AFL oval
a new pathway, and
floodlights.
Construction of the new fields started in mid-May 2020 and is expected to be finished during September 2021 (pending COVID 19 restrictions). Fields 5, 6 and 7 will be closed for the duration of the work but the rest of the facilities at Jamison Park will remain operational.
Once complete, the new fields will provide a surface area of close to 22,000sqm and give our community and local sporting groups year-round access to top quality facilities.
Jamison Park already attracts around 300,000 visitors a year, a number set to grow as more people make their home in Penrith. The synthetic surface will improve the durability of the current fields and, due to improved drainage and lack of water retention, allow sport to be played 7 days a week, 365 days a year. In addition, synthetic surfaces require less maintenance, water, pesticide and fertiliser.
The Jamison Park upgrade forms part of Council's commitment to ensure current and future residents can live active healthy lives with increased access to sport and recreation facilities.
For more information, please email This email address is being protected from spambots. You need JavaScript enabled to view it.