Jamison Park Synthetic Facility
Details

Written by

Teela Griffin

Penrith City Council

(02) 4732 7777

(02) 4732 7958

council@penrithcity.nsw.gov.au

https://www.penrithcity.nsw.gov.au

601 High St

Penrith

NSW

2750

Australia

The new multi-use synthetic sports facility at Jamison Park is complete and ready to be enjoyed by the whole community.
The $4 million project forms part of Council's Sport and Recreation Strategy and was proudly funded by the NSW Government in association with Penrith City Council. Nepean Football Association also contributed to this project.
The advanced synthetic surface gives local sporting groups and our community year-round access to a high-quality facility which is more durable than the former turf fields and has the potential to double the weekly capacity of the facility to support increased participation in sport and recreation.
Facility Details
The synthetic surface covers an area of 22,000 sqm and includes:
two FIFA standard football (soccer) fields, which can accommodate eight small-sided fields
one senior size cricket pitch
one AFL oval
amenities building (toilets only)
drinking fountains
spectator boundary fencing (1.5 m high)
LED floodlighting
pathway for ease of access
More information on Jamison Park can be found here
Address
Jamison Park, York Road, Penrith, NSW 2750.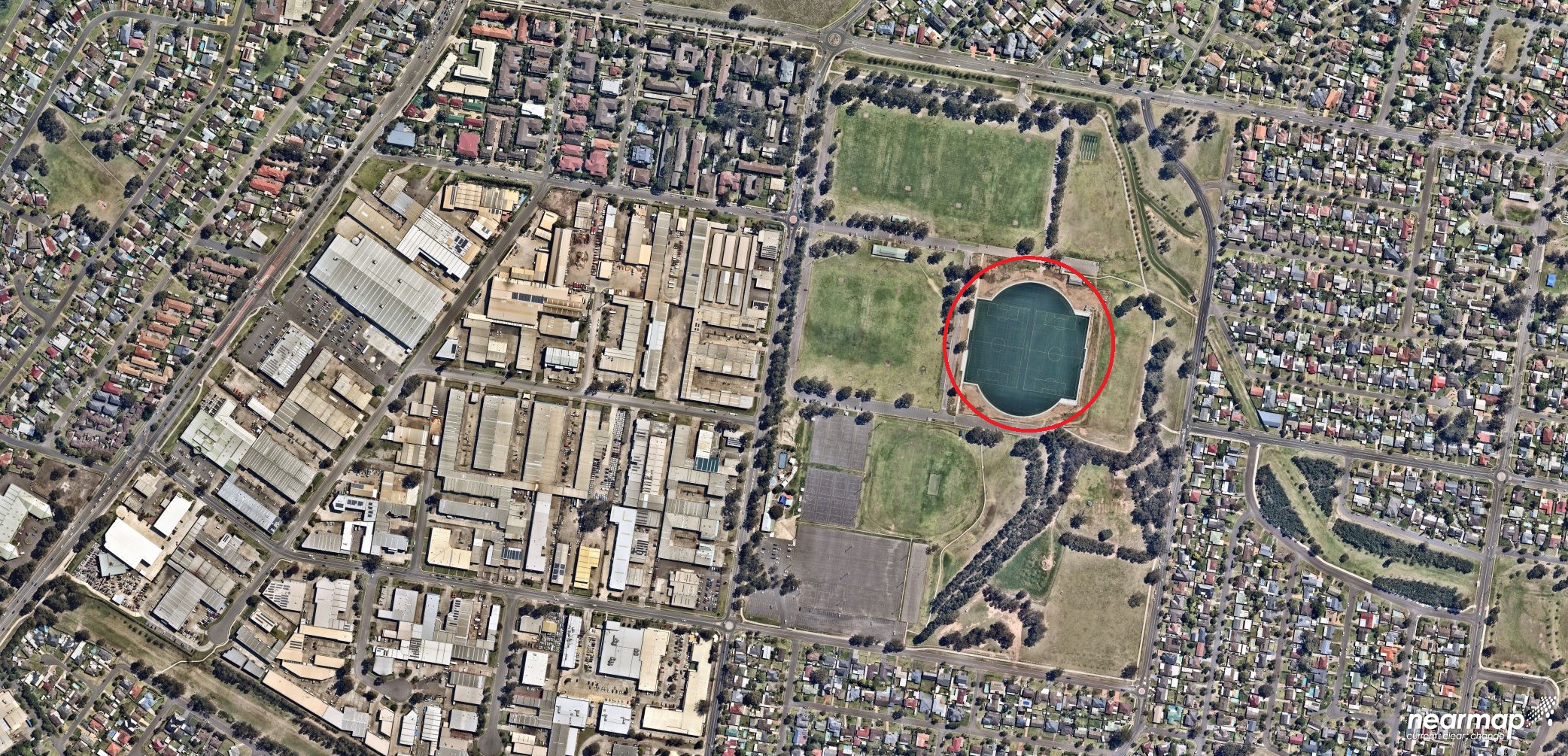 Parking
The internal roads and car parks of Jamison Park or street parking.
Operation Times
The synthetic facility is available for use daily from 5:00 am – 10:30 pm.
Sporting operations must conclude at 10:00 pm unless extended hours are pre-approved by Council.
Floodlighting operates until 10:30 pm to allow for pack up.
Community Use
Organised Sport and Competitions
The synthetic facility can be booked for a range of organised sports and competitions throughout the year:
Winter season – mid-March through August
Summer season – September through February
Cricket
Football (soccer)
Council conducts an annual expression of interest process for seasonal bookings at the facility. The fields are line marked and goalposts will be prepared to cater for each season
Casual, School and Event Bookings
Council is eager for the field to be used by clubs, community groups and schools for various casual sporting competitions, programs and small events. Priority of use will be given to community sporting competitions.
You can find an application for the casual use of a sports ground or reserve here.
For bookings & enquiries, please contact the Community Facilities and Recreation team on (02) 4732 7930 or This email address is being protected from spambots. You need JavaScript enabled to view it.
Personal Trainers
Personal trainers and commercial fitness groups are required to book with Council before use. However, please note that gym equipment cannot be used on the synthetic surface. Please refer to the Conditions of Play below for more information.
For bookings & enquiries, please contact the Community Facilities and Recreation team on (02) 4732 7930 or This email address is being protected from spambots. You need JavaScript enabled to view it.
Terms and Conditions of Hire
You can find our Terms and Conditions of Hire here.
General Recreation
The broader community are welcome to use the facility for general recreation and unorganised activities when there are no booked activities taking place.
Weather Ground Closures
The synthetic facility is suitable for use during periods of wet weather. Any weather-related closures are at the discretion of the hirer.
Hirers are responsible for conducting a risk assessment to determine the suitability of sports grounds for training, competition, player safety and potential ground damage.
Hirers should give consideration to the weather forecast, any relevant State Sporting Organisation (SSO) weather policies and the field condition when inspected.
If the hirer chooses not to proceed with a booking, they must communicate this to Council and all participants including spectators.
Conditions of Play
All facility users must adhere to the Conditions of Play, including prohibited activities, and any Council officer directions to prevent field damage and to prolong the life span of the synthetic facility.
All groups and organised sporting activities need to book with Council before use.
Council reserves the right to book the field at any time. Bookings take precedence at all times.
Children must always be supervised by an adult.
Members of the public must vacate the field during booked activities.
Recommended footwear: Moulded studs or dimpled astro turf trainers. Avoid regular flat soled trainers.
It is the responsibility of the hirer to install goals and secure them within the cage after use.
Fields will be closed fortnightly for cleaning.
The following items and activities are not allowed within the synthetic facility:
Metal stud boots, chewing gum, drinks other than water, food, gym equipment, tables and chairs, pegs and stakes.
Glass and alcohol.
Vehicles and unauthorised commercial services.
Dogs and other animals.
No smoking, bike riding, golf, skateboards or scooters.
Fires are prohibited.
Please report any maintenance issue to Council via the self service portal or contact the Customer Service line on (02) 4732 7777.
If you need further clarification, please contact the Community Facilities and Recreation team on (02) 4732 7930 or This email address is being protected from spambots. You need JavaScript enabled to view it.
Frequently asked questions
1. What is the layout of the sporting fields?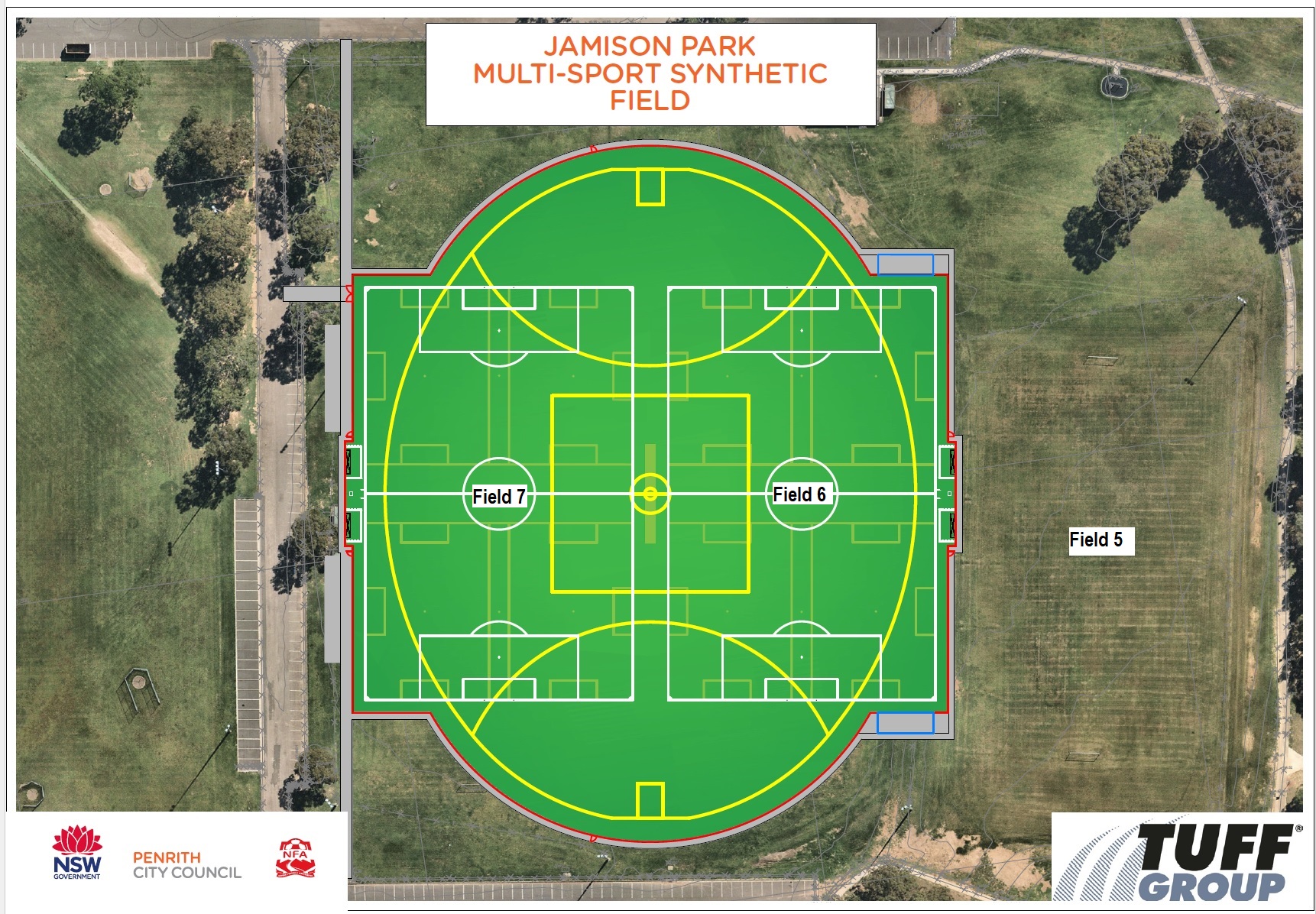 2. What is the recommended footwear when using the facility?
Recommended: Moulded studs or dimpled astroturf trainers.
Prohibited: No metal studs.
It is recommended that footwear is clean prior to entering the field.

3. How can I provide feedback on the Jamison Park synthetic facility?
The community's feedback is valuable and will help guide the Council to continuously improve the facility. Please email your feedback to This email address is being protected from spambots. You need JavaScript enabled to view it.