Regatta Park
Details

Written by

Teela Griffin

Penrith City Council

(02) 4732 7777

(02) 4732 7958

council@penrithcity.nsw.gov.au

https://www.penrithcity.nsw.gov.au

601 High St

Penrith

NSW

2750

Australia

A $24-million upgrade is set to transform Regatta Park at the Nepean River into the new focal point for nature, leisure and recreation and further strengthen Penrith's position as Western Sydney's most liveable city.
Key features of the upgrade include two new playspaces, an accessible path leading down to the river foreshore, over-water viewing platforms, a junior cricket oval, functional carpark and plenty of green open space for a variety of activities. 
An additional 400 trees are set to be planted throughout the precinct to increase Penrith's green grid, provide natural shade as well as help create a shaded link from Penrith's City Centre to the Nepean River.
The Regatta Park transformation is being jointly funded with $9 million contributed by Penrith City Council and $15 million from the Australian and NSW Governments through the Western Sydney City Deal's Western Parkland City Liveability Program.
A kiosk offering dine in and takeaway food and drink options is expected to further boost the amenity of Regatta Park. The kiosk is being funded and delivered by Penrith City Council, and a Development Application is currently being assessed.  
There's also plans to restore the historic Police Cottage at Regatta Park and through adaptive reuse of the property, transform the site into a café and restaurant, with outside seating that offers diners magnificent views of the Nepean River. Find out more
Current status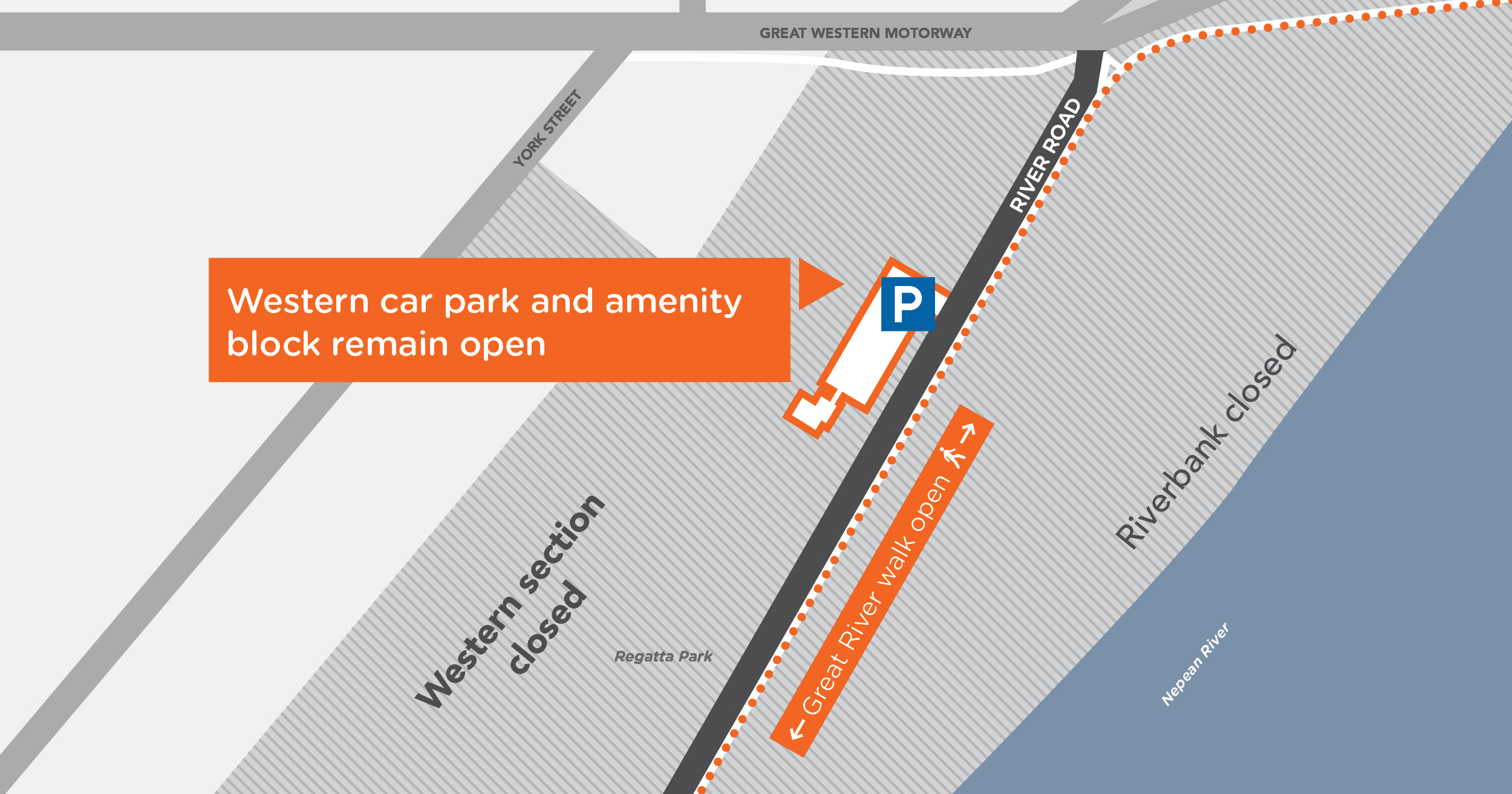 The exciting transformation of Regatta Park at the Nepean River is well underway. Work started in early August focussing on the riverbank, from River Road to the river foreshore. The riverbank is still temporarily closed and is expected to reopen in December 2021.
From late September the upgrade is moving into its next stage which focuses on the western side of River Road and includes preparatory work to get the site ready for Stage Two of construction. Temporary fencing will soon be installed and access to this side of Regatta Park will close.
The car park on the western side of River Road at Regatta Park and the amenity block will remain open for visitors to use during this work. The Great River Walk also remains open with visitors asked to be mindful of the construction while walking in this section.
The eastern car park at Regatta Park is permanently closed. Alternative parking options at the Nepean River include on-street parking along Tench Avenue, Tench Reserve car park and the Emu Plains commuter car park on weekends.
New car park coming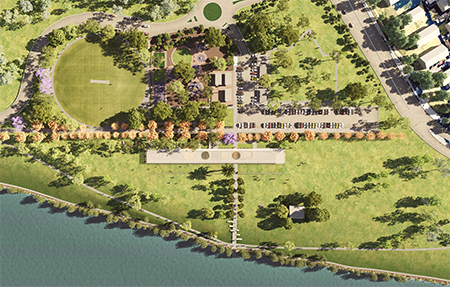 A new car park is a key feature in the transformation of Regatta Park and when complete this car park will increase the number of car spaces in the centralised car park, overflow car park and on-street parking.  There will be a total of 123 car spaces provided for locals and visitors when the upgrade is complete. The new Regatta Park is expected to be open in December 2022. 
More information
For general information about the project, please email: This email address is being protected from spambots. You need JavaScript enabled to view it.
FAQs
Will access to the river be restricted during this stage of construction? 
Access to the Nepean River from Regatta Park for fishing, kayak launching or viewing will be restricted during the first stage of construction. There are other viewing decks and kayak launch decks around the Nepean River including further along at River Road (opposite the Lewers Gallery), Weir Reserve, the Nepean Rowing Club and Tench Reserve.  
Will access to the Great River Walk be restricted during this stage of construction? 
The Great River Walk will not close during this stage of construction however, we are encouraging the community to pay attention to safety messaging on signs in the area and to be aware of construction vehicles around the site.  
 Will access to River Road be impacted at all by this stage of construction? 
We are not expecting any disruptions to traffic in either direction along River Road, and the road will remain open during this stage of the construction.  
How will noise be controlled during construction? 
High noise generating activities will take place during the daytime with no work to be conducted before 7am or after 5pm. Council's Regatta Park Project Management Team will be closely monitoring the site activities to avoid any disturbances to neighbouring residents. We encourage residents to report any noise related issues to us on by emailing This email address is being protected from spambots. You need JavaScript enabled to view it. for immediate action.       
Where will trucks and heavy machinery park during this stage of construction? 
All construction related machinery will park in secured compound to be established by the contractor onsite, with no interruptions to the general public. 
What does Stage Two of the upgrade involve? 
Stage Two of the construction program is focused on the development of Regatta Park on the western side of River Road including the construction of the cricket oval, adventure play space, outdoor exercise stations and River Road deviation.  
What does the River Road deviation look like?
An aerial view of the River Road deviation is outlined in the Presentation Plan. This is available to view and download in the documents section of this webpage.
What road changes are required in this upgrade?
There are several changes to local roads that will affect local traffic movements. While we understand that these changes may cause disruption in the initial stages of construction, we anticipate they will increase pedestrian safety, improve traffic flow along River Road and provide better access to the Great Western Highway for residents and visitors. 
The changes required to local roads surrounding the park include:
River Road, Emu Plains to be realigned with Lamrock Street, Emu Plains. This includes relocating the intersection from the corner of the Great Western Highway and River Road, Emu Plains 130 metres to the west of where it is currently located to be opposite Lamrock Street.
Partially closing York Street, Emu Plains
Relocation of bus stop approximately 50 metres west on Great Western Highway (heading West from Penrith towards Emu Plains).
When will the road changes come into effect?
The River Road deviation is part of Stage Two construction of the Regatta Park upgrade. Preparatory work, including moving utilities and levelling ground, will take place in late 2021 with construction set to begin in early 2022.