St Marys Community and Road Education Scheme
Details

Written by

Adam Gatt

Penrith City Council

(02) 4732 7777

(02) 4732 7958

council@penrithcity.nsw.gov.au

https://www.penrithcity.nsw.gov.au

601 High St

Penrith

NSW

2750

Australia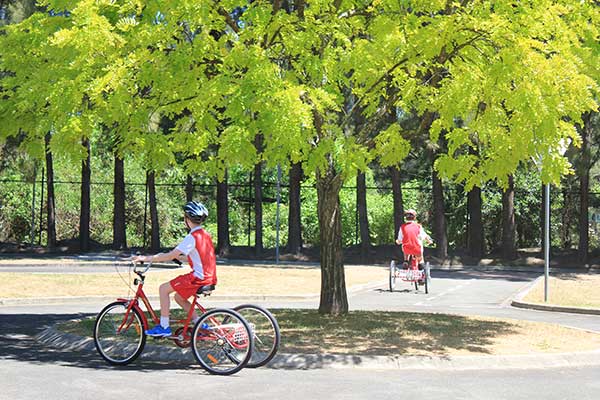 Program overview:
The St Marys Community and Road Education Scheme (CARES) is a purpose-built bicycle safety education facility that gives school students an interactive and fun way to learn about road safety.
The CARES program was created to assist in the reduction of risk, injury and death for young road users. It has been specifically designed for Year 4 to Year 6 students, as children in that age bracket are a higher crash risk category of road users.
Council's CARES program, presented by NSW Police Officers, will help to develop children's road sense, and includes sessions looking at helmets, bike maintenance and road safety. It's a practical, outdoor program, with students participating in an obstacle course before using the simulated roadways to expose them to a variety of real road situations in a controlled environment.
On average, 1000 students attend the CARES program each year. The program not only develops pedestrian and bike safety skills for children, it also fosters an important and positive relationship between children and Police. These positive experiences can have a lasting effect on children's perception of the police force as they grow.
COVID Safe Plan
Hygiene, regular cleaning and disinfection is undertaken for all bikes, helmets and equipment. For more information visit penrithcity.nsw.gov.au/council/information-and-advice-about-covid-19
Schools are encouraged to get up-to-date information and updates about Coronavirus (COVID-19) via:
• NSW Health website
• NSW Department of Education
• Catholic Schools NSW
• Independent Schools NSW
Eligibility: The program is open to primary schools, vacation care providers and community groups who offer school holiday programs.
Experience: Students should be able to ride a two-wheeled pedal 20-inch bike with front brakes, unassisted. However, trikes and other accommodations can be provided if required to meet the student's needs. Please contact the CARES Officer to discuss in more detail.
Teaching and learning of curriculum: Road safety is a mandatory part of the Personal Development, Health and Physical Education (PDHPE) syllabuses. The CARES program teaches children how to be safe on the road as a pedestrian and as a bike rider and is delivered in three parts. These are:
Classroom
Skills
Road track
On the Day: On the day, a Police Officer from the Nepean Local Area Command will provide students an overview of the road rules and bike safety class. Students are then able to participate on the mini road course that has working traffic signals, roundabouts and pedestrian crossings. Students are then challenged to ride a bicycle on the course, while r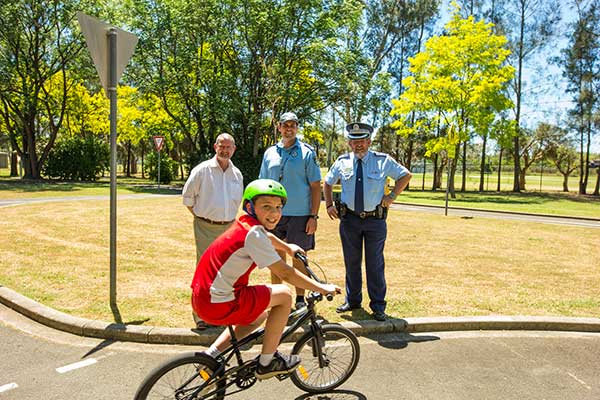 especting all road rules and applying a demerit point system. Students who obey the road rules and retain their full set of demerit points can receive an award at the end of the day.
What to bring:
Helmet - ensure it is an approved helmet with the Standards Australia mark or sticker. CARES have a small selection of helmets if needed.
All food for recess and lunch, including water, as there are no facilities to purchase food.
Sunscreen and hat.
What to wear: Sports uniform
How to book or find out more information:
Phone: 9833 3699
Address: 2 The Kingsway, St Marys
Email: This email address is being protected from spambots. You need JavaScript enabled to view it.
Message to families and school community: Road safety is everyone's responsibility
All types of travel require planning, safe practices and observing road rules and guidelines. School communities can work together to help make getting to school safely easier. Young children require active supervision by an adult whenever they are in a traffic environment.
We all need to reinforce and practice:
Using safe travel routes
Modelling how to be a safe road user
Always following road rules and the road signs
Creating safer environments
Assisting students to become independent travellers
Attachments:
A guide to fitting a helmet correctly
Children's colouring activity - when riding a bike