Grant funding upgrades lighting at The Kingsway Playing Fields
Details

Written by

Adam Gatt

Penrith City Council

(02) 4732 7777

(02) 4732 7958

council@penrithcity.nsw.gov.au

https://www.penrithcity.nsw.gov.au

601 High St

Penrith

NSW

2750

Australia

Tuesday, 19 February 2019
Penrith Mayor Ross Fowler OAM today accepted $500,000 in Community Sport Infrastructure Grant Scheme funding for The Kingsway playing fields from Senator for Western Sydney, Senator the Hon Marise Payne and Minister for Sport, Senator the Hon Bridget McKenzie.
The Kingsway playfield fields at St Marys attracts around 7,500 participants each week through a range of sporting and recreational pursuits. It is one of the largest touch football and Oztag facilities in Greater Sydney with its 18 playing fields and is used by local cricket clubs and several schools for sport and gala days.
"The funding will be used to bring the lighting at The Kingsway (North) up to Australian Standards and allow our sporting clubs to use all the fields – giving more even wear across the facility,' Cr Fowler said.
"Penrith is a city that loves sport of all kinds. Council recognises how important access to sporting fields and recreational facilities all year round.
"This is why we value the importance of working together with community sports groups and the State and Federal governments to provide the best facilities we can. I thank the Federal Government for its support today."
The grant and a further $195,000 from Penrith Council will be used to upgrade floodlighting for 18 fields across The Kingsway (North) facilities, installing accessible paths around the amenities building and the upgrade to the playing surface of eight fields.
These upgrades come just as work on the floodlight upgrade to The Kingsway South are being finalised. Those fields are used primarily by St Marys Rugby League Club and were funded by contributions from Council, St Marys Rugby League Club and the State Government through the Community Building Partnerships Scheme.
A further $3.1million is being injected into The Kingsway West to build four additional fields (two standard and two junior fields), an upgraded carpark and an amenities building. That work is expected to be completed by the end of this year.
Photo caption: Penrith Mayor Ross Fowler OAM joined Federal Ministers, Senator the Hon. Bridget McKenzie and Senator the Hon. Marise Payne with local sporting groups (Cricket, Oztag and Touch Football) at The Kingsway for the announcement of upgrades to the lights and playing surface.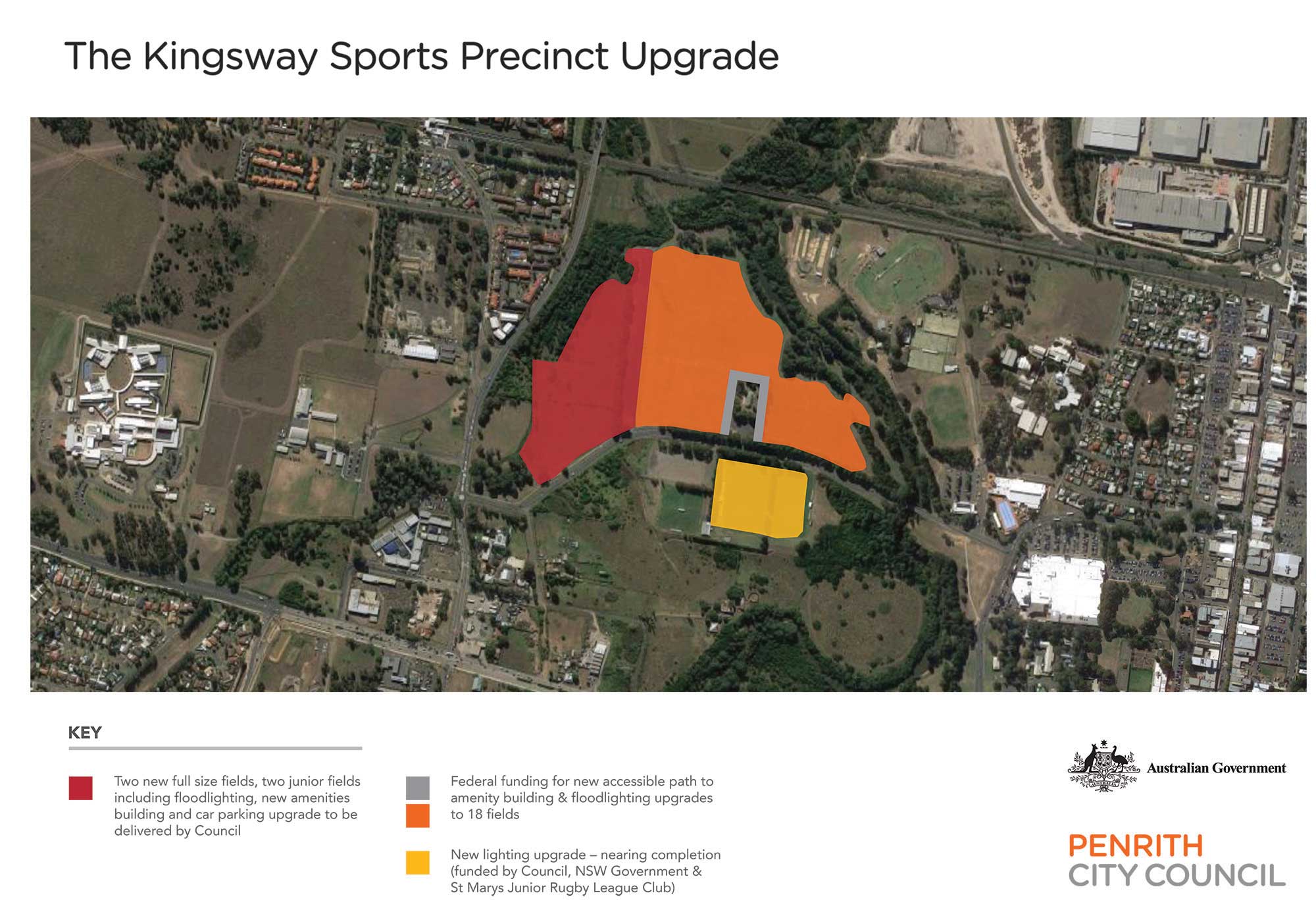 Information contained within this news release was correct as at Tuesday, 19 February 2019.