Council honours local legends
Details

Written by

Jeremy Bentvelzen

Penrith City Council

(02) 4732 7777

(02) 4732 7958

council@penrithcity.nsw.gov.au

https://www.penrithcity.nsw.gov.au

601 High St

Penrith

NSW

2750

Australia

Monday, 20 June 2022
Residents of the Penrith Local Government Area will be able to learn more about the City's rich history at a central reserve and popular playspace as Council honours the work of local legends.
Penrith City Council hosted two ceremonies last week to remember and celebrate the achievements of Teresa James, a passionate environmentalist, and Garry Rumble OAM, a stalwart of the Penrith community.
Family members, friends and colleagues joined Penrith Mayor Tricia Hitchen for the unveiling of commemorative plaques at the newly named Teresa James Reserve in Claremont Meadows, and Garry Rumble Playspace at Pioneer Park in South Penrith.
Cr Hitchen enjoyed hearing stories from their loved ones and was pleased to see residents out in droves to pay their respects for Teresa and Garry.
"It is always hard to lose members of the community who spend their lives making a difference, but to see how respected and adored they are is humbling and really rewarding for their families," she said.
"Council appreciates what these wonderful people have worked hard to achieve and represent in our City, so it's only fitting to honour them in a special way.
"In the cases of Teresa James and Garry Rumble, we have named an open space after each of them with a plaque on site detailing their outstanding contributions to the community.
"We hope these become places their families can return to as a way of remembering them, while also educating residents about two local legends who have sadly passed but left behind outstanding legacies for our City."
More information about Teresa James

Teresa James was passionate about nature and dedicated to her campaign to protect our environment. Teresa was extremely knowledgeable about Western Sydney's native vegetation and assisted government agencies and Councils as a botanical expert.
Admired for her ability to identify plants like no other, which saw her finding and identifying native plant species that others had overlooked, Teresa's alternate flora assessment carried much weight in the fight to have significant remnant bushland in Penrith protected.
Teresa had over 20 years of experience in conservation and ecology and over the years worked closely with Council staff, undertaking flora assessments, and sharing her expertise on the Cumberland Plain. Her work contributed greatly to our City's critically endangered vegetation community and helped drive various projects.
Teresa wrote many books and guides on Western Sydney's bushland, including Rare Bushland Plants of Western Sydney and Native Flora of the Cumberland Plain Woodland. She helped map our bushland in the Urban Bushland Biodiversity Survey and conducted many workshops that provided community education about the plants in local reserves.
She also assisted community and environment groups and played a key role in protecting the former Air Services Australia land at Vincent Road, Cranebrook, as one of Sydney's newest nature reserves.
More information about Garry Rumble

Garry Rumble worked at Blue Mountains and Bankstown Councils before joining Penrith, where he stayed for 31 years. Garry started as Council's District Health Surveyor in 1970, became the Health and Building Services Manager in 1988 and finished with Council as Safety, Emergency and Waste Services Manager. During his time with Council, Garry led the introduction of 'wheelie' bins, oversaw the development of the organisation's first computer system to track development applications and the installation of a floating weir on the Nepean River.
Garry held the position of Local Emergency Management Officer from 1989 and represented Council on the Flood Mitigation Management Authority of NSW. In this role, he acted as the liaison with both the State Emergency and Rural Fire Services.
Among his many achievements, Garry was on the Civic Centre Construction Project Team and was Chief Warden for the Civic Centre from the time of its opening in 1994 and he served as a Penrith Councillor from 2004-2008 before receiving an Order of Australia Medal the following year for his service to the community of Penrith and to Local Government.
Garry fostered youth leadership and supported older residents through his work with Penrith Apex Club, as a member of Penrith Rotary, and by chartering Nepean Rotary Club in 1993. He was a member of the Olympic Torch Relay and Paralympics Games committee from 1998 to 2000, led the formation of Nepean Riverlands Probus Club in 2003 and of Glenmore Park Probus Club in 2005.
Garry was awarded Life Membership of Penrith Apex in 1982 and of the Nepean Riverlands Probus Club, announced a Rotary Paul Harris Fellow in 1998 and received the Paul Harris Sapphire and Centenary Medal in 2000.
He was also part of the committee which championed the relocation of the Penrith Museum of Fire to its current location.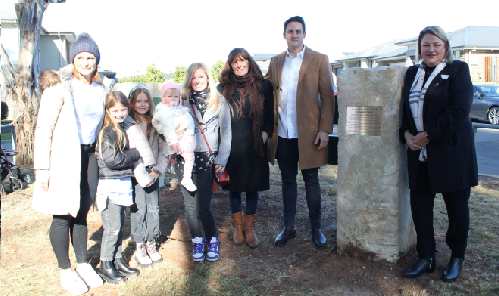 Teresa James' family members joined Penrith Mayor Tricia Hitchen to unveil the new plaque honouring Teresa's memory and her dedication to protecting bushland in Western Sydney.

Penrith Mayor Tricia Hitchen was joined by her Councillor colleagues, Penrith City Council staff and Garry Rumble's family members and friends for the naming ceremony held at the Garry Rumble Playspace.
Information contained within this news release was correct as at Monday, 20 June 2022.