Record numbers as the streets of Penrith and St Marys opened up
Details

Written by

Jeremy Bentvelzen

Penrith City Council

(02) 4732 7777

(02) 4732 7958

council@penrithcity.nsw.gov.au

https://www.penrithcity.nsw.gov.au

601 High St

Penrith

NSW

2750

Australia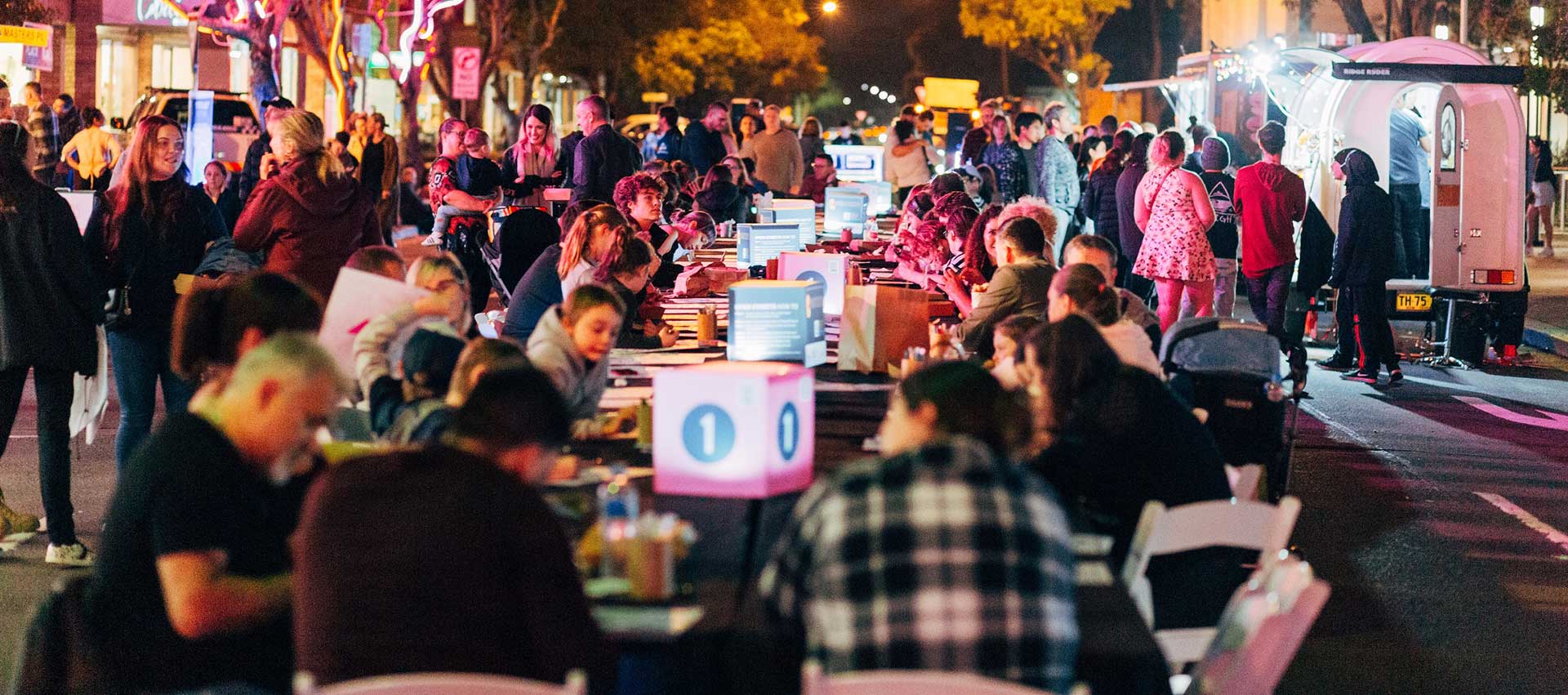 Monday, 6 June 2022
The Open Streets Penrith and St Marys Lights Up event series attracted over 24,000 attendees during the month of May. These newly developed series of events opened the streets for the community to enjoy Penrith and St Marys in a way they had never experienced before.
Open Streets Penrith saw attendees dine at a long table as a community while enjoying a variety of exciting food options from the surrounding restaurants in the Penrith CBD. There was live art happening throughout the night, neon lights creating a colourful backdrop, as well as a DJ providing the beats and comedians bringing the laughs. St Marys Lights Up transformed Coachmans Park and Kokoda Place car park into a festival space for the community to enjoy live music, DJs, roving performers, food and drinks every Saturday for the month of May.
Penrith Mayor Tricia Hitchen was elated to see the success of the events as the community came together to celebrate after the challenges of the pandemic and the recent flood emergency.
"I am delighted to see how the community has embraced these events," Cr Hitchen said.
"Open Streets Penrith and St Marys Lights Up was a chance for Council to support local businesses and to showcase our city centres as a place for everyone to meet, eat, relax and enjoy together through these inclusive events. It was great to see families, couples and friends all getting out and enjoying our public spaces.
"These events have been successful thanks to the positive community response," Cr Hitchen said.
A temporary pop-up park at St Marys set up in Kokoda car park for the month of May as part of the event series has proven so popular with the community that its installation will be extended until the end of June, with pop-up performances by local musicians planned.
Open Streets Penrith and St Marys Lights Up have been curated by Penrith City Council who received $500,000 funding through The Festival of Place Open Streets program, a NSW Government initiative to support 13 council areas across Greater Sydney to open streets for community events and activities.
For information on future Penrith City Council events, go to penrith.city/events
Information contained within this news release was correct as at Monday, 6 June 2022.