Council receives praise for innovative planning practices
Details

Written by

Jeremy Bentvelzen

Penrith City Council

(02) 4732 7777

(02) 4732 7958

council@penrithcity.nsw.gov.au

https://www.penrithcity.nsw.gov.au

601 High St

Penrith

NSW

2750

Australia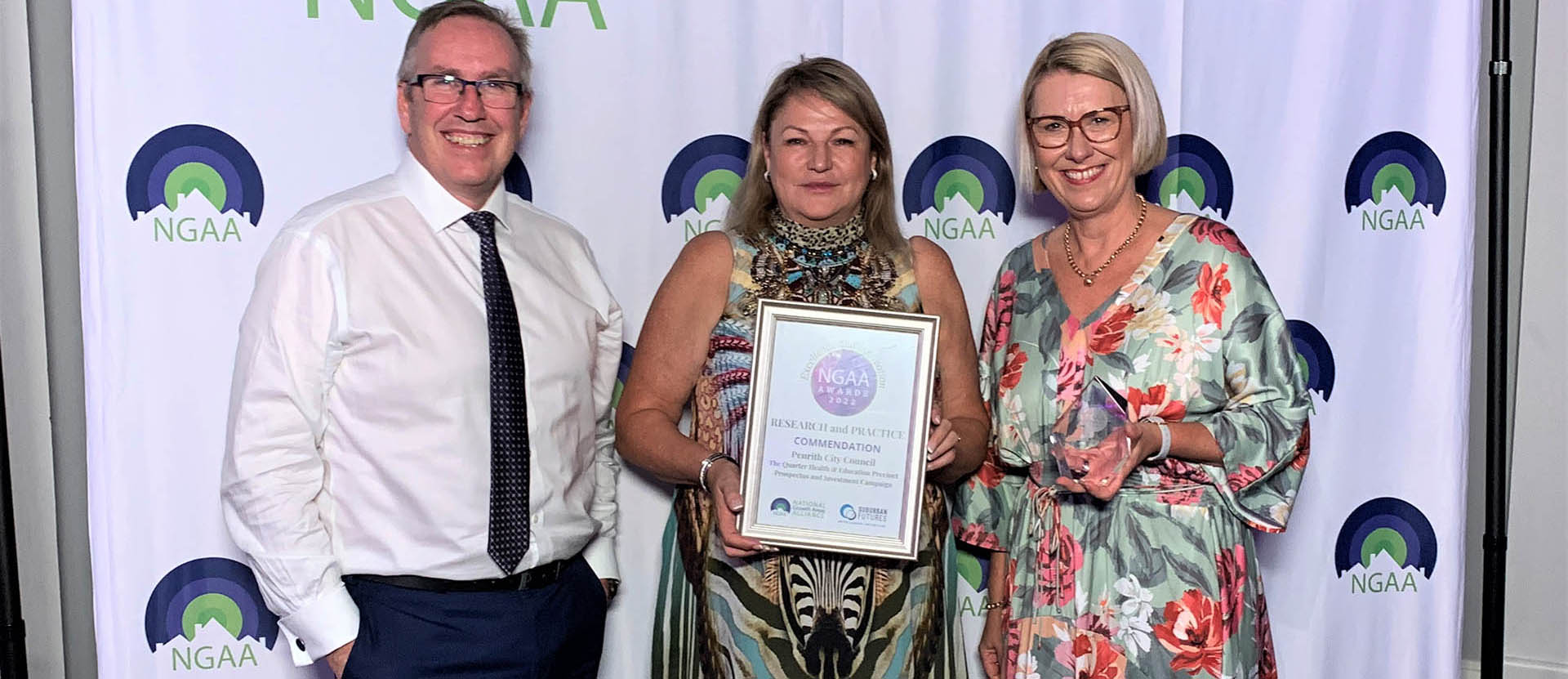 Thursday, 24 March 2022
Penrith City Council is adding to its list of achievements after winning an award and receiving a commendation at the 2022 National Growth Areas Alliance (NGAA) Awards.
The awards recognise innovation and excellence in projects and initiatives that support the development of growth areas across the country. On Monday evening (21 March), Council's planning team took out the Research and Practice category with their Places of Penrith submission.
Places of Penrith is a strategic framework that establishes a vision for our City and provides directions for change to create better places for our community to connect, play, learn, work and live. Once completed, the framework will incorporate a suite of Council's city-shaping strategies that explore Penrith's challenges as well as its vast growth opportunities.
Penrith Mayor Tricia Hitchen attended the event and was thrilled to hear Council named as a winner.
"Penrith is future-focused and aims to be on the front foot so to have our innovative, evidence-based approach to planning acknowledged is an outstanding achievement - and I congratulate the team for their continued efforts in this space," Cr Hitchen said.
"It's no secret that Western Sydney is in the midst of a major transformation due to the construction of the Western Sydney International (Nancy-Bird Walton) Airport and its associated transport networks.
"Places of Penrith has been developed to support Council's ability to meet and exceed the planning requirements; it's an extensive body of work underpinned by several of our existing strategies, including the Employment Lands Strategy and the Green Grid Strategy, and yet to be finalised strategies including planning for our centres, corridors, housing and rural lands.
"This strategic framework examines the unique needs of each pocket of our City as we experience a population and infrastructure boom – from which suburbs require greater tree canopy coverage to the areas where we can create job opportunities to allow residents to work near home."
Council has consolidated a number of these key strategies to effectively plan for and respond to the needs of our growing community while monitoring and evaluating these outcomes.
During the awards event earlier this week, Council received a commendation for The Quarter Prospectus, which was also a submission in the Research and Practice category.
The Quarter Prospectus details the vision for a world-class centre of excellence in Penrith known as The Quarter, a 400-hectare health and education precinct at Kingswood. The Quarter Prospectus connects residents, students, investors, health practitioners and researchers to the vision and opportunities for the precinct.
"Council continues to lead the way in planning - well done to all who contribute to putting these strategies in place and positioning our City for the future," Cr Hitchen said.
To read more about Places of Penrith and Council's work in strategic planning, visit penrithcity.nsw.gov.au/building-development/planning-zoning/vision-strategies-plans.
To find out more about The Quarter and request a copy of The Quarter Prospectus, go to thequarter.org.au.
Information contained within this news release was correct as at Thursday, 24 March 2022.