Electronic Waste
Details

Written by:

Teela Griffin

Penrith City Council

(02) 4732 7777

(02) 4732 7958

council@penrithcity.nsw.gov.au

https://www.penrithcity.nsw.gov.au

601 High St

Penrith

NSW

2750

Australia

What is Electronic Waste
What is e-waste?
E-waste is any old, broken and unwanted electrical items with an electric cord or a battery, including; computers, monitors, mice, keyboards, cables, cameras, CD drives, clock radios, DVD players, electric blankets, electrical power tools, electronic games/toys, fans, fax machines, floppy discs, grooming devices, hard drives, iPod, juicers, kitchen appliances, mixers, monitors, networking equipment, notebooks, personal electrical devices, printers and printer cartridges, projectors, scanners, mobile phones, stereos, TVs, VCR players, video cameras, WIFI modems and more.
Why is it important to take your e-waste to the right place?
It is essential that we recycle e-waste responsibly because sending them to landfill takes up a huge amount of unnecessary space, and some components can be toxic to the environment if not disposed of correctly. E-waste is responsible for 70% of toxic chemicals found in landfill and 23,000 tonnes of carbon emissions each year.
For more information about e-waste click here to download our guide.
What can you do to reduce e-waste?
Thankfully, lots!
Reuse - if it is in working order, consider selling it on Facebook marketplace on Gumtree or donating it to Pay it Forward service or charity, you can also buy refurbished items.
Repair - often things like kitchen appliances are an easy fix.
Recycle – The RecyclingNearYou website gives a list of locations to drop off items in Penrith. All items taken to the Penrith's Community Recycling Centre or Council's E-waste Drop-off Day will be disassembled, sorted, and recovered for recycling, 98% of the components in your computer or television can be fully recycled, reused and disposed of responsibly!
Thanks, Penrith for never wasting a chance to take your e-waste to the right place.
Electronic Waste Drop-Off Day
Do you have unwanted, broken or old electronic items you've been waiting to dispose of correctly? Pack these into the boot of your vehicle and bring them to one of our drop-off days at The Kingsway Playing Fields carpark in Werrington and they will go to the right place to be recycled or reused.
When is the next event?
The next E-waste Drop-off event will be 9 September 2023 from 9am – 3:30pm at The Kingsway Playing Fields in Werrington.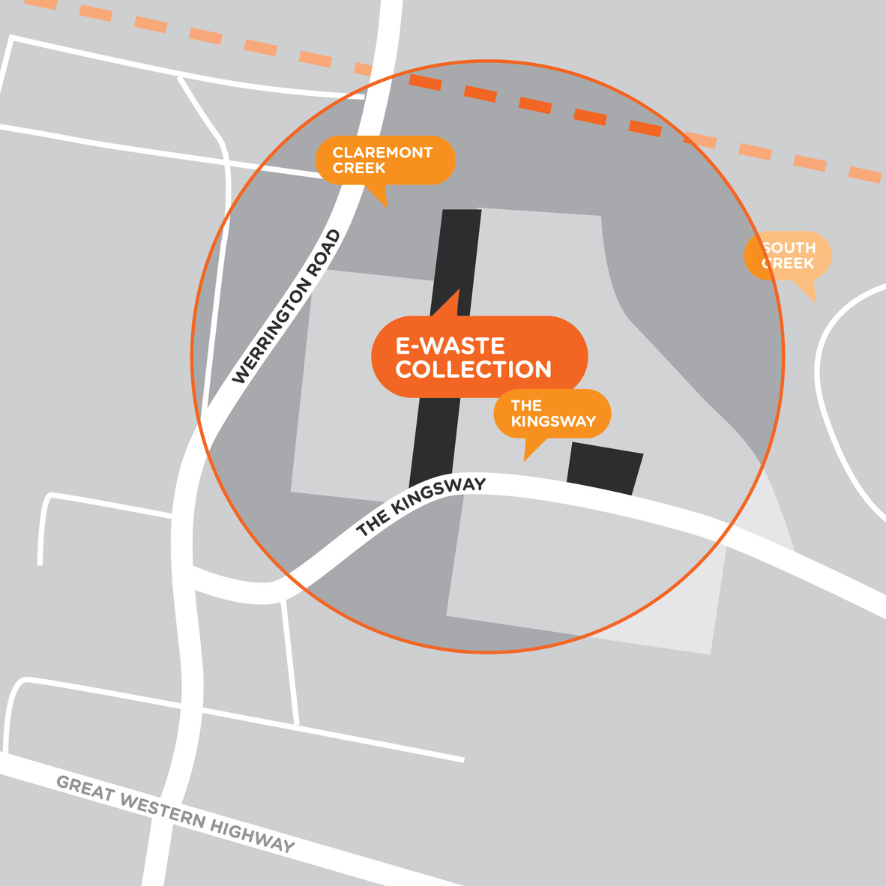 Pack your old televisions, computers, microwaves, stereos and other electronic waste in your car or trailer. The friendly staff will unload for you and the items collected will be recycled. All items dropped off at the event are disassembled, sorted and recovered for recycling into new products. Scavenging is not permitted.
Please safely pack drop-off items into the boot of your car or your trailer, come to the event and remain inside of your vehicle. The friendly staff will unpack your boot or trailer to ensure a safe distance is maintained at all times.
We can accept:
computers and related products including monitors, mice, keyboards
cables
cameras
cd drives
clock radios
DVD players
electric blankets
electrical power tools
electronic games/toys
fax machines
floppy discs
grooming devices
hard drives
iPod
juicers
mixers
monitors
networking equipment
notebooks
personal electrical devices
printers and printer cartridges
projectors
scanners
stereos
TVs
VCR players
video cameras
mp3 players
We can't accept:
Gas bottles
Household batteries
Car batteries
Large speakers from sound systems
Whitegoods including car fridges
Air conditioners
BBQs
Petrol-powered small appliances and tools
Edgers and trimmers
Some of these items may be accepted at the Chemical CleanOut events or in a bulky waste collection. For more information on how to dispose of these and other items, see the A-Z of Waste & Recycling.
Stay informed with our free app
Download our free Penrith Waste Champion app from your app store to receive notifications about our free drop off days and other resource recovery initiatives.
Other ways to recycle
If you can't make it to an e-waste drop off day, the Penrith Community Recycling Centre is open year-round and accepts household quantities of e-waste.