Nepean River
Details

Written by

Adam Gatt

Penrith City Council

(02) 4732 7777

(02) 4732 7958

council@penrithcity.nsw.gov.au

https://www.penrithcity.nsw.gov.au

601 High St

Penrith

NSW

2750

Australia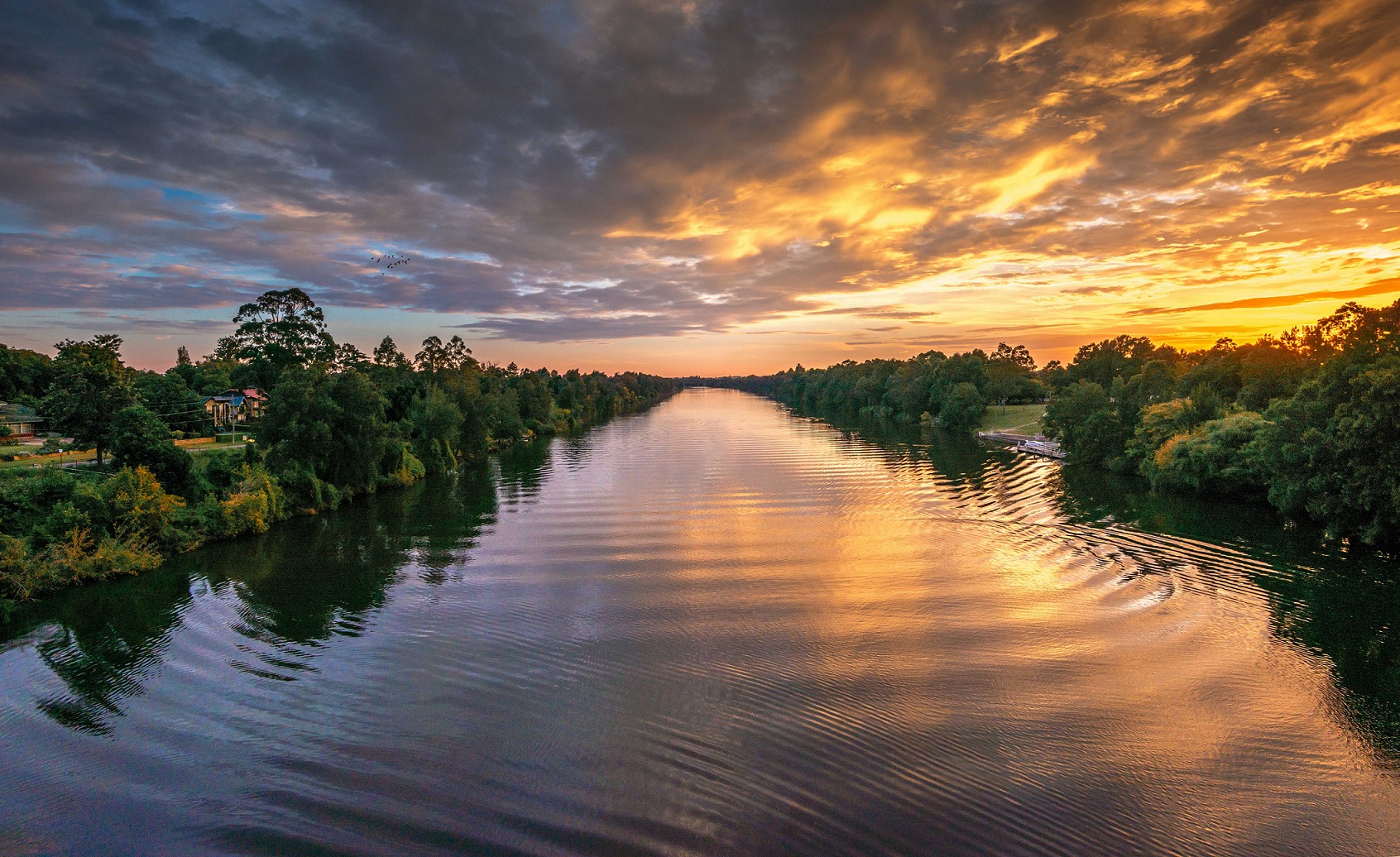 The Nepean River is our region's most iconic natural asset and its potential as a world-class destination for recreation, dining, leisure and entertainment is being realised with the delivery of exciting projects.
Projects on both sides of the Nepean River are underway to increase useability and access, improve amenity and provide more opportunities for residents and visitors to eat, meet, relax, be active and celebrate together.
The revitalisation of Regatta Park, upgrade of Tench Reserve and vegetation management of the riverbank at River Road are just a few of the key projects set to be delivered over the next 12 months.
These projects were identified in Council's Our River Masterplan (2013) whichwas developed with the community and outlined a shared vision and a strategicframework to celebrate, activate and protect the City's favourite natural asset.
Council's ongoing program of work to revitalise the Nepean River is set to strengthen Penrith's position as Western Sydney's most liveable city.
Current Projects
Regatta Park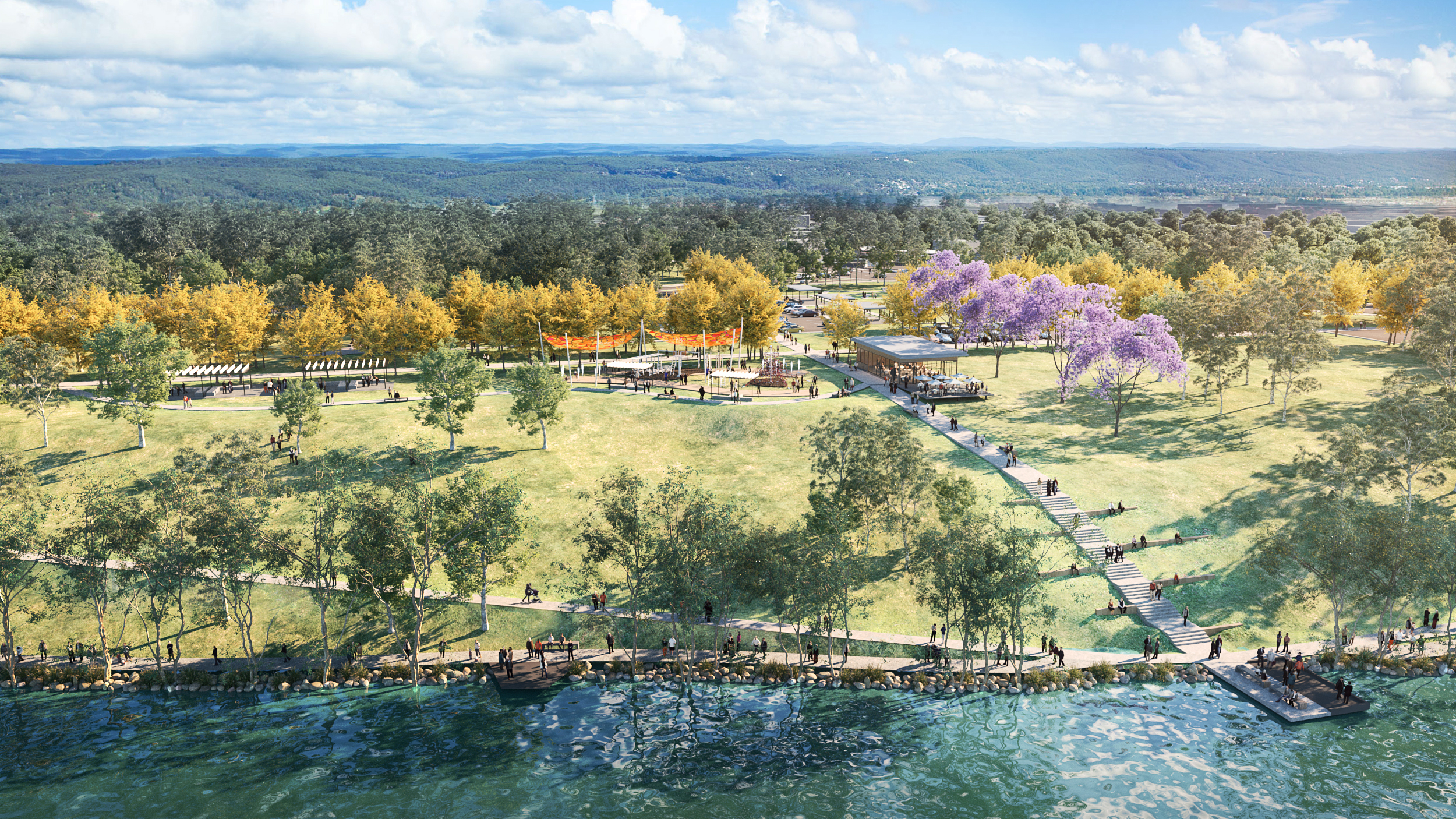 Current Status: Final design phase
The Penrith community's vision for better access to the beautiful Nepean River and improved amenities is closer to being realised with final designs for Regatta Park underway.
The design of Regatta Park is the result of careful planning and extensive community consultation, with the most recent consultation occurring in February 2020 to decide on important playground features.
The new park features event and festival areas, picnic spaces, river terraces, a regional playground for children and a potential future dining precinct with expansive river views.
Funding to upgrade Regatta Park follows Council's successful application to the Western Sydney City Deal's Liveability Program, which is designed to provide high quality community infrastructure and public spaces to create neighbourhoods that are liveable, sustainable and healthy.
The project is jointly funded with $15 million from the Australian and NSW Governments as part of the Western Sydney City Deal's Livability Program and $9 million from Council.
The upgrade will maximise the potential of Regatta Park and give a further boost to this well-loved part of Penrith which is already complemented by the popular Yandhai Nepean Crossing, the expanding east bank dining precinct and the redevelopment of Emu Hall into a restaurant and bar.
The final design of Regatta Park is progressing and further community consultation on this will take place in late 2020.
To find out about future engagement opportunities, make sure you're connected to Council's Facebook page and subscribe to receive updates at yoursaypenrith.com.au/regatta-park
Project update: EOI for Public artwork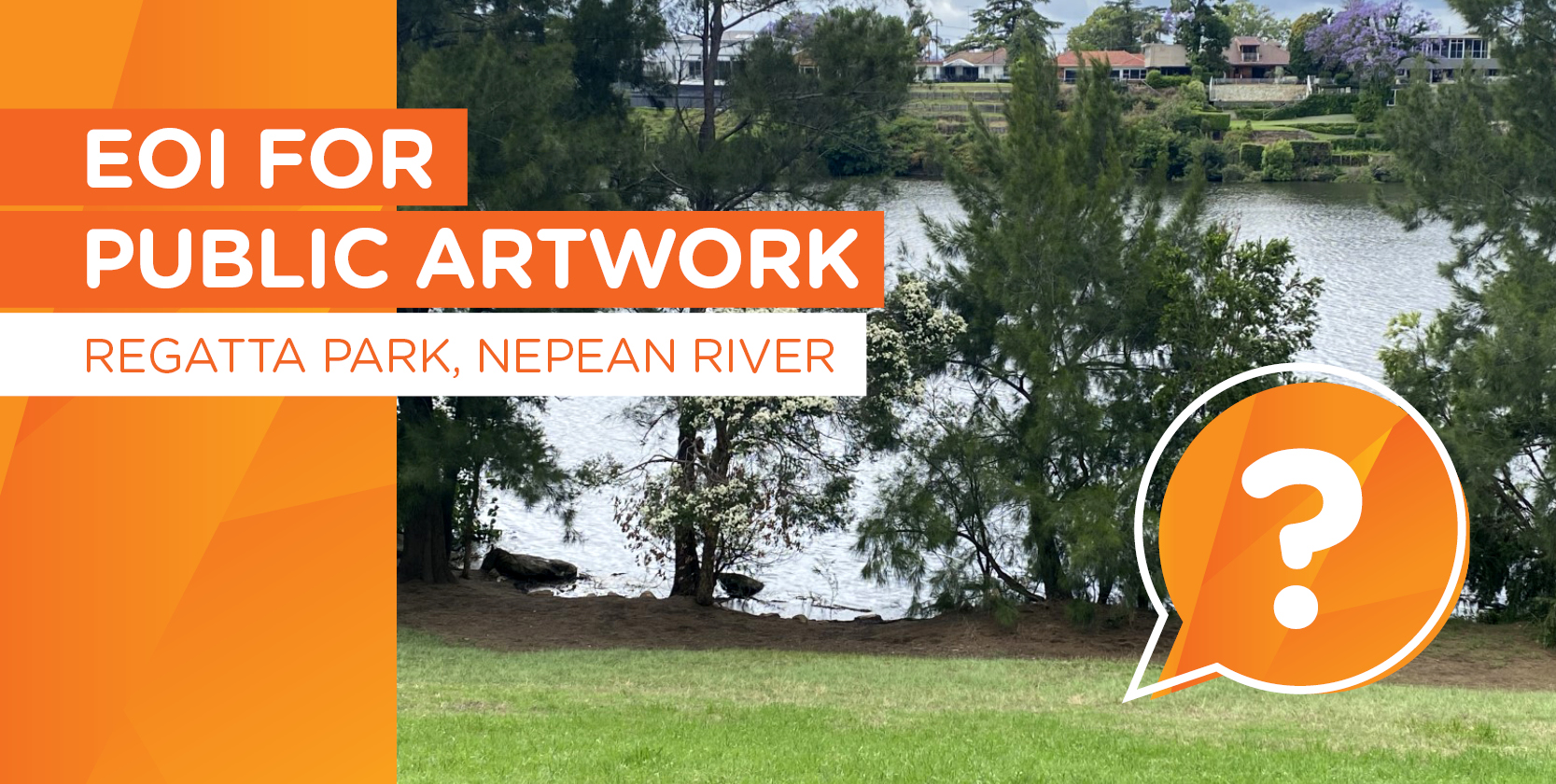 Penrith City Council is calling for artists to submit their Expressions of Interest (EOI) to design and create an iconic public art piece for the new Regatta Park recreational precinct.
The commissioned artwork will celebrate the history and significance of the unique riverside location, highlight Regatta Park's features, and welcome the community and visitors to the area.
Talented artists are invited to detail their experience delivering public artworks and their ability to develop durable and robust artworks in Stage One of the EOI period, which is open from 18 November until 16 December 2020.
Three shortlisted artists will each be awarded $1,500 to develop and present their concept design proposal and outline how the Artist will engage with the community.
The successful artist will be announced in February 2021 and receive $125,000 for all associated costs including the fabrication, delivery, and installation of the artwork.
More information can be found at yoursaypenrith.com.au/regatta-park. Download the detailed brief here.
For queries regarding the EOI process please contact This email address is being protected from spambots. You need JavaScript enabled to view it.
Project update: Site undergoing investigation and assessment
Regatta Park in Emu Plains will undergo archaeological investigations and assessment for historical and Aboriginal heritage for a period of four to six weeks from 18 October 2020. During this time sections of the park will not be available for use and some disruption is expected. Penrith City Council has engaged McGregor Coxall to conduct this testing. The testing of this site is an important stage in the delivery of the new $24 million Regatta Park precinct which is due to start construction in April 2021.
The Police Cottage - Regatta Park
Project update: The Police Cottage, Development application underway
The Police Cottage is an important local heritage feature of Penrith and its location adjacent to the Yandhai Nepean River Bridge provides a crucial link to the Regatta Park Precinct.
Council's vision is to bring the Police Cottage back to life, delivering a destinational dining offering, through an adaptive reuse of the property, transforming the site into a café and restaurant, with outside seating that offers diners magnificent views of the Nepean River.
Constructed in 1908, The Police Cottage was the purpose-built police station and residence for Emu Plains. It forms part of the historical development of the locality of Emu Plains and was designed by the Government Architects Branch.
Significant heritage refurbishment is required to restore this building. Refurbishment will include façade restoration and replacement works to the verandas, roof, services upgrades, and internal refurbishments as well as an upgrade to the outdoor privy.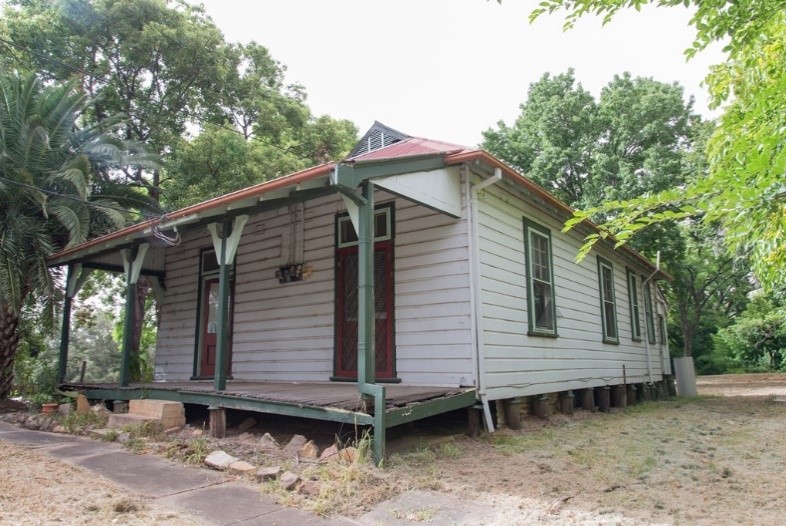 The proposal includes a possible deck extension to create an outdoor dining area which will be shaded by the row of mature Jacaranda trees at the edge of the site and will ensure diners can capture the views of the iconic Yandhai Nepean Crossing and the Nepean River.
With the cost estimated at more than $2.5 million, the project is seeking grant funding of $1 million as an investment contribution from Crown Lands NSW through the Crown Reserve Improvement Fund.
The expected timeline for this project is:
Conservation Management Plan complete June 2020
Development Application lodged late 2020
Construction commences early 2021
Construction complete mid-late 2022.
The restoration of the Police Cottage is an opportunity for Council to preserve its historical value, enhance the gateway into Regatta Park and help realise the potential of the Regatta Park Precinct as a high-quality recreational and dining destination.
Tench Reserve
Parks for People Program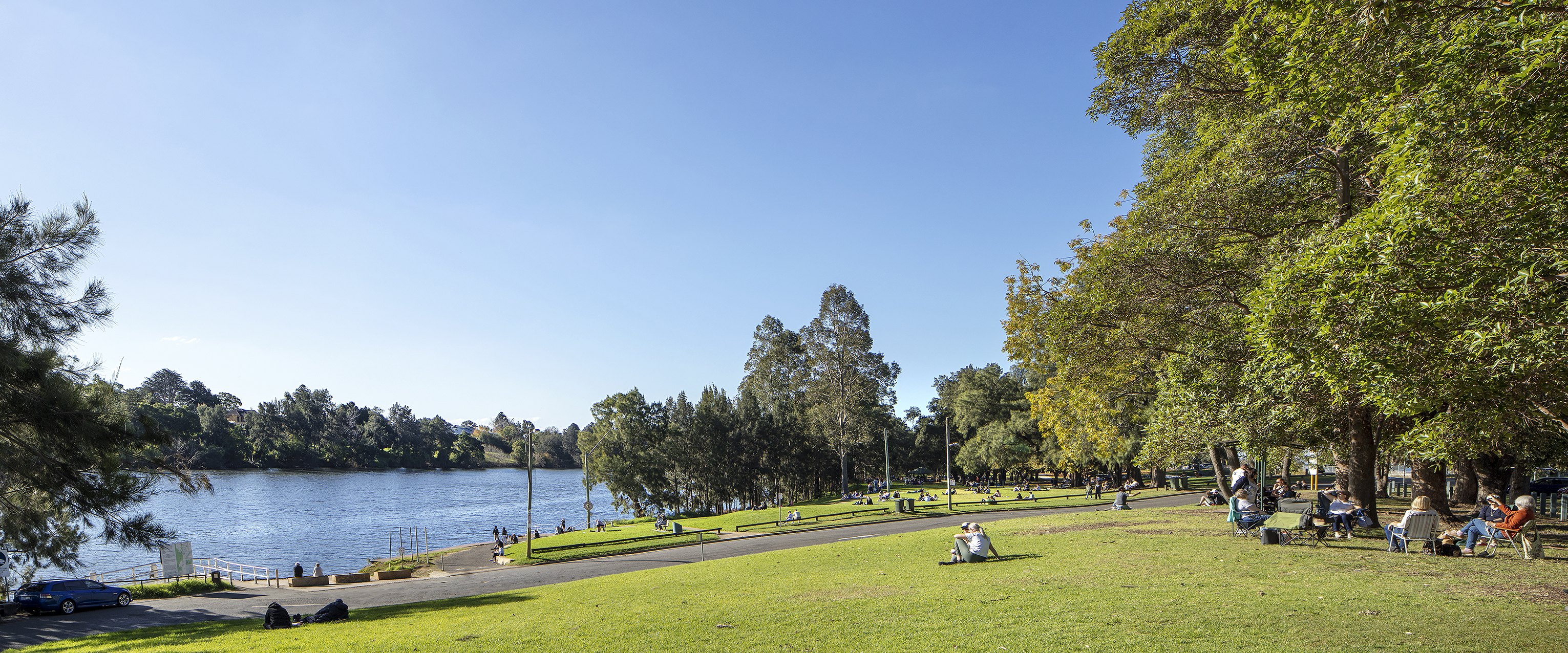 Status: Consultation underway
The revitalisation of Tench Reserve continues with the announcement of a new $10 million open space park to be developed and delivered by the NSW Government.
This project is funded through the Department of Primary Industry and Environment's Parks for People Program which aims to improve communities' access to high quality open space areas and increase green cover.
The design will consider how to provide improved connection to the river for water sport and recreation; improve the Great River Walk and ways to open up the views, vistas and access to the Nepean River.
Consultation for this project has commenced and engagement opportunities can be found here: https://www.dpie.nsw.gov.au/tenchreserve
For out more about the Parks for People Program at dpie.nsw.gov.au/parksforpeople
Got a question? Have a read of the Frequently Asked Questions or you can contact This email address is being protected from spambots. You need JavaScript enabled to view it. or call 1300 305 695.
Great River Walk
Penrith City Council has received an offer of emergency funding from the NSW Government to improve safety along Nepean Avenue by putting temporary traffic and roadside changes in place.
Proposed short-term solutions include temporary flexible traffic barriers, a designated two-way pedestrian lane, speed cushions and reduced speed limits.
In addition, cyclists will be directed to use the roadway to ensure their safety, 'speed cushions' will be installed and the speed limit on Nepean Avenue will be reduced to 40km/hr for pedestrian and cyclist safety.
Council will consult with residents and users of the Great River Walk in an endeavour to develop a permanent solution to enhance the safety for both users and residents.
This information will be used to inform a review of the program where a longer-term solution for this popular feature of our City may be considered, Council will also be seeking broader community feedback as part of this review.
River Road
Vegetation Management
Stutus: Ongoing
Important vegetation management work along the riverbank on River Road will commence in August 2020.
This work is part of a three-year grant project funded by the Federal Government's Environment Restoration Fund.
The $150,000 'Keeping the Hawkesbury and Nepean Rivers Healthy' project will see a schedule of work rollout over the next three years to rejuvenate and enhance the riverbank along River Road, Emu Plains.
Some of the key issues identified on the riverbank include the well-established exotic trees, shrubs and ground covers, steep and eroding banks, and native Casuarina blocking views.
The immediate vegetation management work includes:
Removing and controlling exotic weeds, trees, and vines
Planting appropriate native species (groundcover) to help stabilise the bank
Creating a mown edge alongside the upper footpath to provide a safe and tidy streetscape for pedestrians and residents and discourage snake habitat
Completed Projects
Tench Reserve
Tench Avenue Path Works (Stage 1)
Council has constructed a new shared path along Tench Avenue, just south of Jamison Road.
Funds for Stage 1 of this project were provided through the Metropolitan Greenspace Program, traffic share-use program and Section 7.11 district open space funds.
The works included:
construction of 160m of shared footpath and all associated works
construction of stormwater drainage
construction of a new bus stop
construction of new kerbs and gutter, road pavement, bollards and fencing
landscaping and furniture.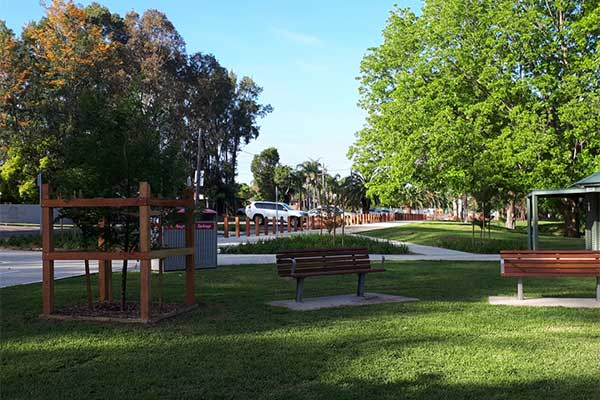 Tench Avenue Path Works (Stage 2)
Council has completed the construction of additional shared path between Jamison Road and the M4 Overpass.
Funds for Stage 2 was provided through the 'Walking Communities' – NSW Government Priority Funding Program.
The works included:
construction of over 800m of shared footpath and all associated works
construction of stormwater drainage and gross pollutant trap
construction of a new bus stop
construction of new kerbs and gutter, road pavement, bollards and fencing
landscaping and furniture.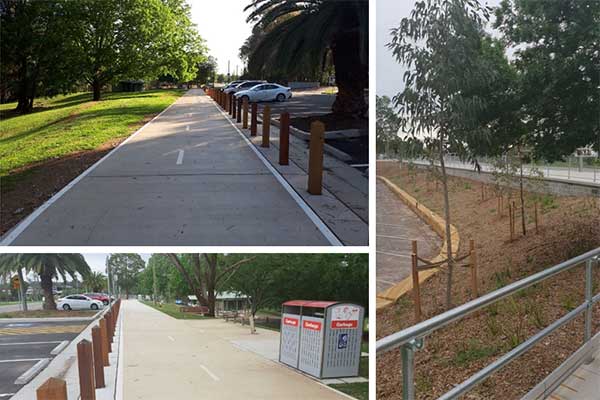 Parkland Path
Council has completed the construction of new accessible parkland paths through Tench Park. Funds for the Tench Park path works was provided through the Metropolitan Greenspace Program (MGP) and Council contributions.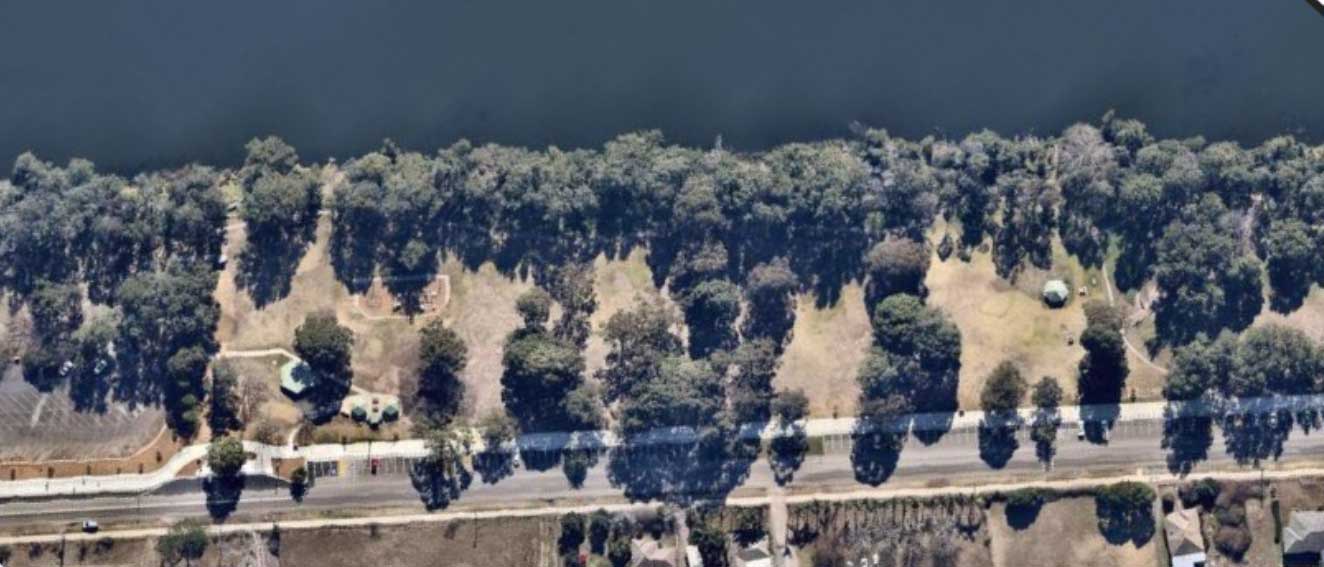 Waters Edge Deck Construction
Council has completed the construction of new water's edge decks at Tench Reserve and River Road, opposite Lewers Gallery. The design and investigation was funded through a Better Boating Round 1 grant. Construction of the water's edge decks was joint funded through a Better Boating Round 2 grant in addition to Council section 7.11 (formerly Section 94) Great River Walk funds.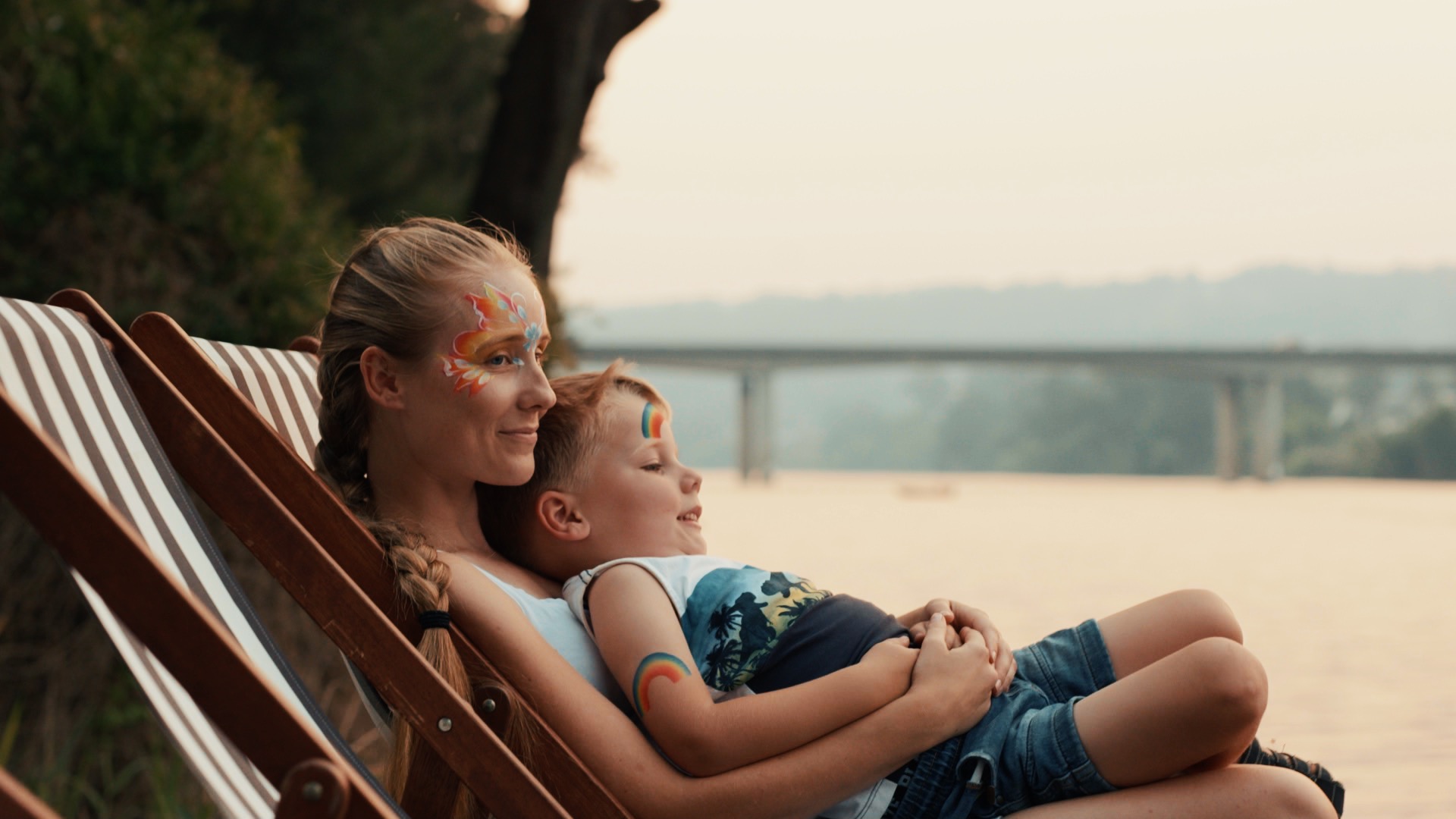 New Boat Ramp and Trailer Parking
Council has upgraded the boating facilities at Tench Reserve. The works are an important element of Council's Our River Masterplan, and were jointly funded by the Australian Government and the NSW Boating Now infrastructure program.
The works included:
a new 3 lane boat ramp
34 new boat trailer parking bays
new access roads
10 new vehicle parking bays
new jetties along the foreshore, including connection to the existing jetty
new footpaths, stairs, balustrades and fencing
landscaping and lighting.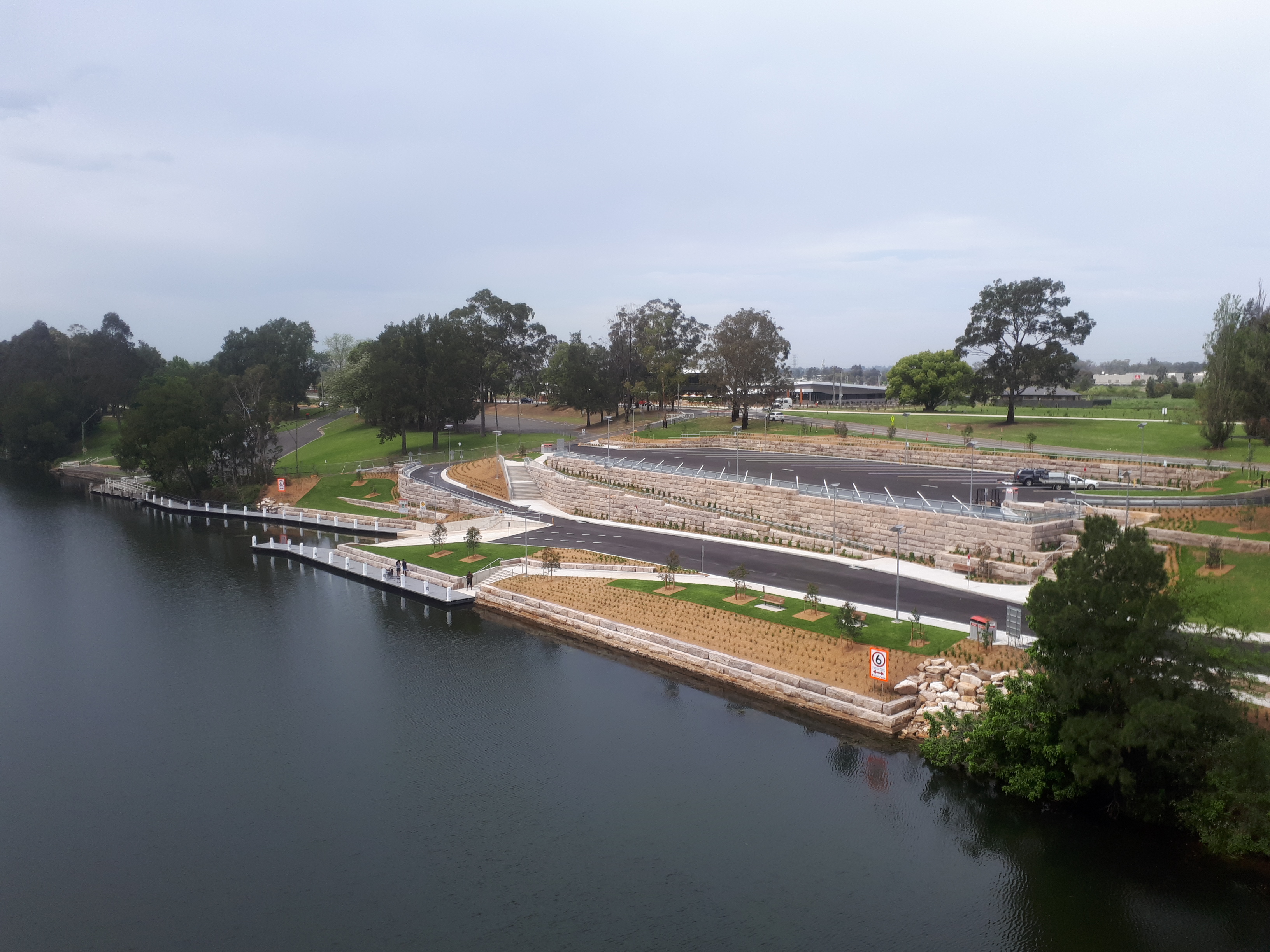 Weir Reserve
Rowing Dock Extension
Council has completed the extension to the rowing dock at Weir Reserve. The work included design and construction of the rowing dock, installation of rollers to assist with launching 'tinny' coaching boats into and out of water and asphalting between new deck and existing footpath. The rowing dock upgrade was funded through the Australian Government's Community Development Grants (CDG) programme which funds community infrastructure projects across Australia.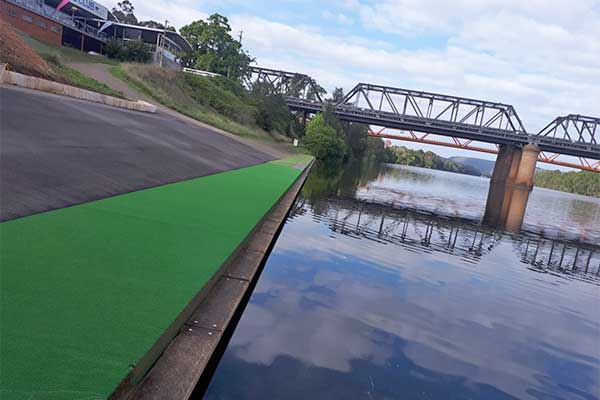 Leonay
Leonay Gully Bank Stabilisation and Stormwater Treatment
This project is part of a series of works designed to enhance and restore the natural environment along the banks of the Nepean River.
A series of stepped basins help slow down the water in the gully and prevent erosion, with planting in the basins improving water quality.
The site was actively eroding and would have seen further loss of riverbank soils, ongoing public safety issues and a further reduction in the aesthetic appeal of the recreation area/waterway and nearby streetscape.
The works involved:
removal of introduced trees
excavations
export and import of sandstone boulders, aggregates and soil
reconstruction of banks
construction of a series of stormwater treatment rock lining for the channel bed and toe of bank
planting works (wetland plantings and low native groundcovers and grasses)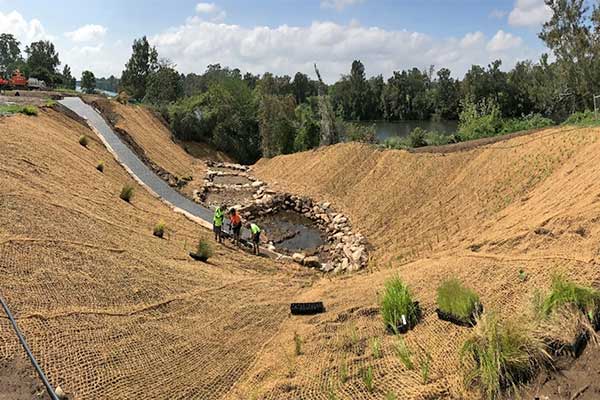 Yandhai Nepean Crossing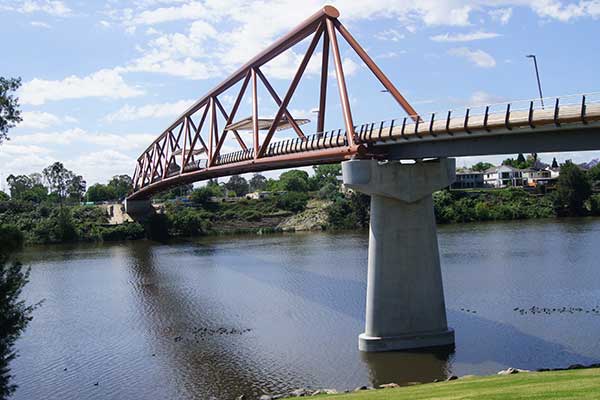 Council's 'Our River' Masterplan (2013) identified a safe pedestrian and cyclist crossing as a key priority for the Nepean River precinct and following strong advocacy from Council, the NSW Government committed to funding and delivering a new pedestrian bridge in 2012.
After extensive consultation with the community and a two-year construction period, the $49 million Yandhai Nepean Crossing opened in late 2018. The name of the bridge signifies the language of the Darug people who have strong traditional and historical ties to Western Sydney and the Nepean River.
As well as providing a safe way to cross the Nepean River and complete the 7km loop section of the Great River Walk, the pedestrian bridge offers walkers and cyclists the opportunity to enjoy spectacular views of the Blue Mountains National Park and the Nepean River.
Fast facts
Main span length – 200 metres
Overall bridge deck length – 257 metres
Overall length of shared path – 455 metres
Truss width – 8 metres
Truss height – 13.5 metres
Number of support structures – two abutments and two piers
Steel tonnage of truss – 485 tonnes
Steel tonnage of deck – 155 tonnes.
Contact Details
Have a question?
Please contact the Design and Major Projects team on 4732 7568 or 4732 7402 or via emailThis email address is being protected from spambots. You need JavaScript enabled to view it..