Vegetation of Penrith
Details

Written by

Teela Griffin

Penrith City Council

(02) 4732 7777

(02) 4732 7958

council@penrithcity.nsw.gov.au

https://www.penrithcity.nsw.gov.au

601 High St

Penrith

NSW

2750

Australia

Penrith City sits on the Cumberland Plain. The Cumberland Plain, located over most of western Sydney, comprises of gently undulating plains and low hills formed on sediments of the Wianamatta group of shales, as well as alluvial deposits along rivers and floodplains. These unique, heavy clay soils are moderately fertile and have resulted in a distinctive type of vegetation of eucalypt woodland with a grassy understory. This contrasts with the vegetation of the sandstone plateaus that have very few species in common with the grassy woodlands of the Cumberland Plain. 
There are several different vegetation communities within the Penrith area, all associated with the Cumberland Plain. The most dominant vegetation community is the Cumberland Plain Woodland, which is listed as critically endangered under the NSW Biodiversity Conservation Act 2016 and the Environment Protection and Biodiversity conservation Act 1999. Since European settlement there is only 9% of Cumberland Plain Woodland remaining due to land clearing. Our city supports about 17% of the remaining bushland on the Cumberland Plain. This vegetation is under considerable pressure from ongoing development and urbanisation and every effort should be made to conserve and enhance its remaining extent.
Vegetation communities
The vegetation communities found in the Penrith area are outlined below:
You can download indicative vegetation maps from the NSW Office of Environment and Heritage.
Threatened Species
'Threatened' means that the species is under threat to such an extent that it is vulnerable to extinction in the near future. Legislation is in place to protect threatened species. Threatened species or vegetation communities are a conservation priority and need additional consideration in any planning process. Approximately 90% of the vegetation remaining in Penrith is considered to be threatened under state or federal legislation. Many of these vegetation communities are also considered to provide vital habitat for threatened and vulnerable fauna species.
Learn more about our threatened flora and fauna species by clicking on the links below.
Roadside Vegetation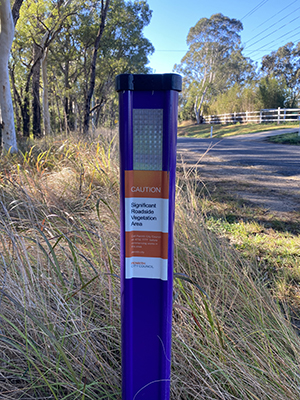 Roadside environments and the conservation values present within the road reserve vary considerably. In the rural and peri-urban areas of the Penrith Local Government Area (LGA), vegetation occurs in patches of variable size and is often highly fragmented. This increases the importance of roadside vegetation as steppingstones between remnant patches. Remnants provide valuable wildlife habitat and support areas of core habitat when linked to other vegetation across the landscape.
Roadside vegetation is a prominent part of the landscape and provides public amenity and aesthetic value. Well-structured native vegetation with trees and shrubs provides shelter from road noise, dust and prevailing winds and shade for residents and others using the roadside environment.
Penrith Council has implemented a Roadside Vegetation Management Plan (RVMP). In preparing the RVMP, 567 kilometres of roadside within the peri-urban and rural areas of the LGA were assessed. Roadside environments were assessed using the Roadside Assessment Method developed by Local Government NSW and Local Land Services. Results of the assessment show 140.2 kilometres were considered to have High Conservation Value (HCV) and 42.3 kilometres with moderate conservation Value (MCV).
The majority of vegetation communities within the roadside reserve are listed as threatened ecological communities under both state and/or federal legislation and, as a result, these areas hold significant conservation value. These areas provide potential habitat for many native plants and animals, including 56 threatened species such as the Powerful Owl, Regent Honeyeater and Southern Myotis.
Most of the native vegetation within Penrith that is naturally occurring along roadside reserves is part of the Cumberland Plain Woodland, listed as a critically endangered ecological community.
Roadside reserves contain valuable environmental assets that provide habitat for native flora and fauna and amenity to local communities. As a result, the need to manage roadside reserves for environmental objectives and recognise the ecological value of these areas across the LGA rather than exclusively for their utility as transport corridors has emerged.
The RVMP also outlines several key threats to native vegetation and biodiversity that Council takes into consideration. These include
Dieback
Invasive weeds
Clearing
Slashing/ underscrubbing
Littering/ dumping
Frequent burning
Firewood removal
Roadside construction and maintenance
Stockpiles
Infrastructure building and maintenance
Council will be complementing the assessments from the RVMP by installing purple roadside markers where High Conservation Value vegetation or threatened species have been identified and require protection. No work is to be permitted by Council, contractors or the community without an environmental assessment being undertaken by a qualified person.
For more information on Roadside Vegetation Markers check out our FAQ.