Staff commended for bushfire service
Details

Written by

Philippa Borland

Penrith City Council

(02) 4732 7777

(02) 4732 7958

council@penrithcity.nsw.gov.au

https://www.penrithcity.nsw.gov.au

601 High St

Penrith

NSW

2750

Australia

Thursday, 12 March 2020
Penrith Mayor Ross Fowler OAM was joined by Blue Mountains City Council Deputy Mayor Chris Van der Kley yesterday as they thanked staff from Penrith Council for their assistance during the bushfire emergency.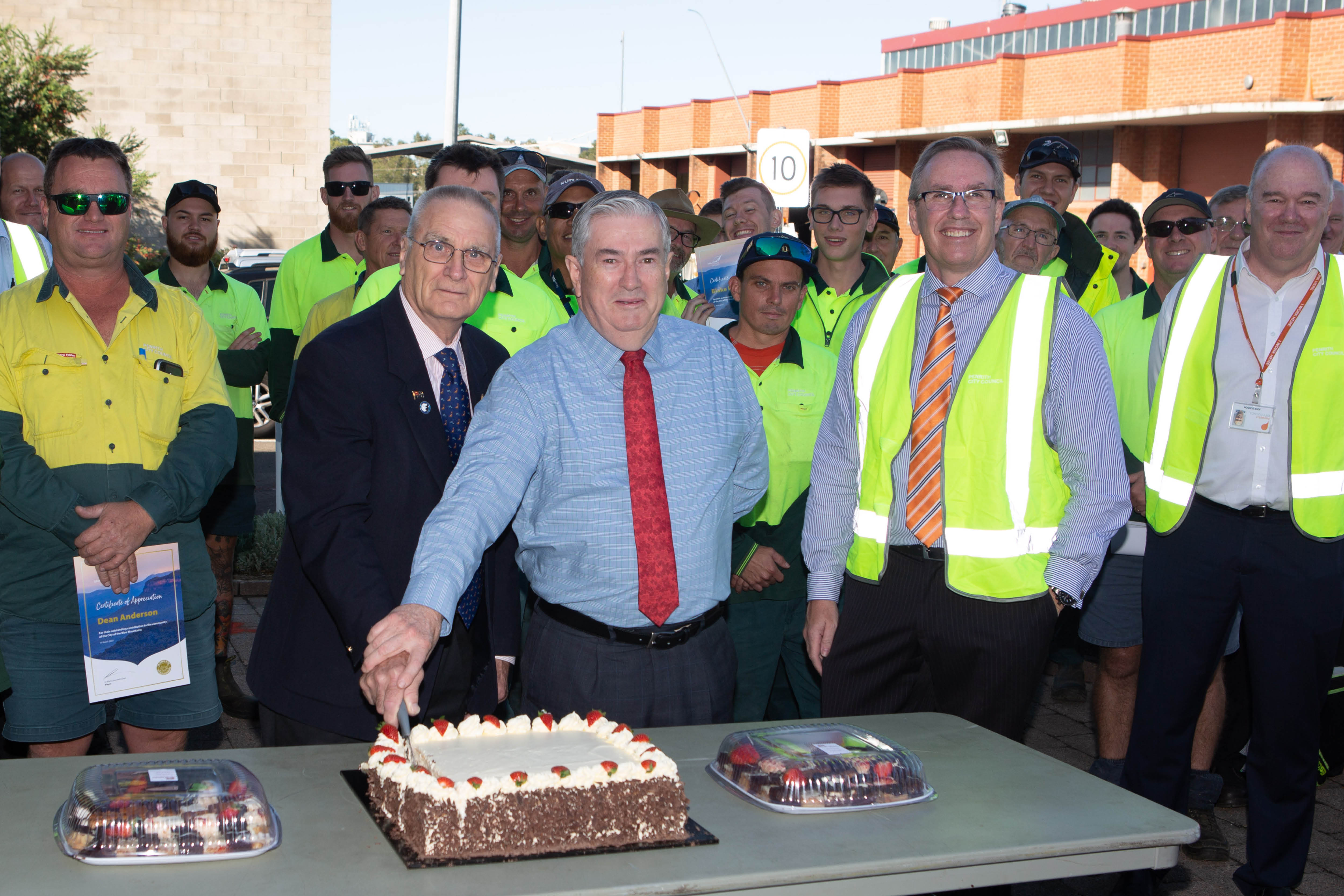 At the beginning of the emergency Penrith Council reached out to Blue Mountains and Hawkesbury councils to provide assistance by diverting staff, plant and other resources to the areas to help.
Several Penrith arborists and a team of 30 City Presentation staff stepped in to help in the Blue Mountains. The arborists helped identify and mark dangerous trees for removal while City Presentation staff removed and transported green waste out of communities and mowed and prepared reserves and parks.
Cr Fowler said the coordinated response by Council staff has been tremendous throughout the bushfires.
"In times of need, it is reassuring to know that we can all come together to play our part and be united in providing essential services to residents and ensuring the safety of our own and neighbouring communities," Cr Fowler said.
"Our staff were exemplary in the height of the crisis and continue to honour our committment to the long haul to repair damage wrought by the fires."
Blue Mountains City Council Mayor Mark Greenhill OAM said: "We appreciate that Penrith City Council, and other neighbouring councils, assisted during our time in need recently.
"Penrith Council staff helped our community prepare for bush fires, by working long hours beside our officers to accept green waste at our waste management facilities.
"They supported our arborists to assess dangerous trees, after the bush fires, and they also helped our parks staff to keep on top of mowing.
"Mayor Ross Fowler OAM, who was the Mayor of Penrith during the 2013 bush fires, helped us then and his Council also helped us this time around."
Despite no active bush or grass fires being reported in the state, the statutory Bush Fire Danger Period is in place until 31 March, but may vary due to local conditions.
Photo caption: Blue Mountains City Council Deputy Mayor Chris Van der Kley, Penrith Mayor Ross Fowler OAM and Penrith Council's General Manager Warwick Winn say thank you to some of the 30 staff who provided assistance during the bushfires.
Information contained within this news release was correct as at Thursday, 12 March 2020.