Pure intent leads to business success
Details

Written by

Philippa Borland

Penrith City Council

(02) 4732 7777

(02) 4732 7958

council@penrithcity.nsw.gov.au

https://www.penrithcity.nsw.gov.au

601 High St

Penrith

NSW

2750

Australia

Lila Bates joined the Launch Pad program in December 2018 and over the past 12 months both she and her business, bVitra, have experienced "phenomenal growth".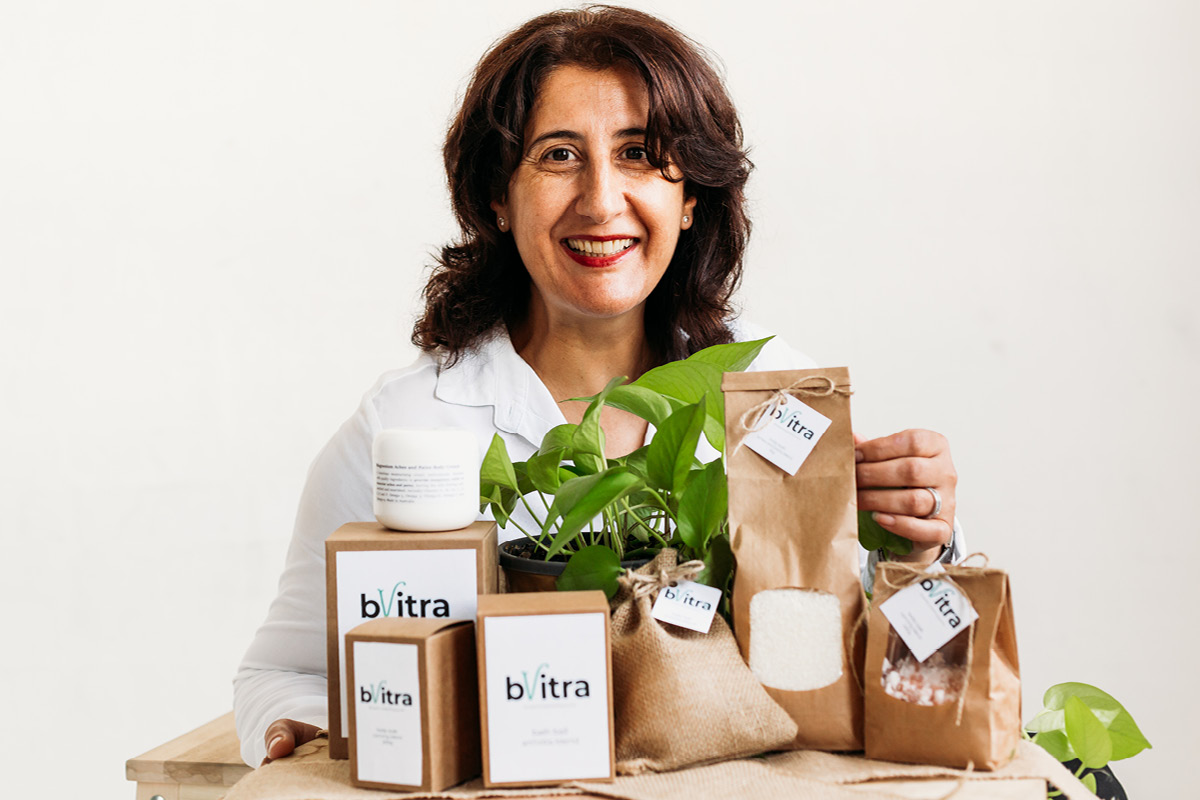 With strong mentorship and a range of support she has marketed bVitra's wellness products, including bath soaks and massage oil, is currently testing a range of creams with the National Institute of Complementary Medicine (NICM) and working towards accreditation by the Therapeutic Goods Authority and Australian Certified Organic.
Lila's sights are firmly set on the export market, and next month she is headed on an all-expenses-paid trip to Shenzhen, China to attend the APEC SME Business Forum, hosted by the Australia China Business and Innovation Centre.
Heady stuff. Especially when you consider the idea for bVitra came from a stained bathtub.
"In 2016 my daughters were given bath bombs for Christmas – they were highly coloured and contained glitter and foam animals," Lila said. "They were pretty and fun, but I noticed they had stained the bathtub and, more worryingly, my daughter's skin."
This led Lila, who has a background in risk management, to research the ingredients in the product. She was horrified by what she found.
"They contained some really harmful chemicals that have been linked to a whole range of cancers, diseases and disorders," she said.
Further research led Lila to the healthful properties of minerals and botanicals, and the idea for bVitra was born.
"I started to make bath soaks for my daughters using minerals and fruit and essential oils to give them a nice bath experience and also deliver beneficial elements to their skin," she said.
The company name, bVitra, is a play on the Sanskrit word 'Pavitra" which means pure. The products are 100% natural and designed to ease arthritis, aches and pains, restless sleep and anxiety.
"Everything we do at bVitra revolves around what we believe is best for humans, animals and the environment," says Lila.
In line with this commitment, the products are packaged in bio degradable bags, recyclable and reusable packaging.
According to Lila, with consumers increasingly aware of toxic elements in many personal care products and a growing awareness of plastic pollution, it's a great time to enter the market.
bVitra products are currently sold online and included in hampers by partner organisations such as Global Sisters.
"Before I joined Launch Pad I was supported by a not-for-profit group Global Sisters who help women achieve financial independence," Lila said.
It was through another "sister" that Lila found out about Launch Pad.
"It has been incredible," she said of her journey so far. "Launch Pad give you a dedicated mentor to help you grow and to keep you accountable. The program teaches you everything you need to know about business."
bVitra is one of only two hardtech startups in the current program and her involvement has led to valuable connections.
"The University and Launch Pad are partnered with NICM who are testing my products so I can gain accreditation – this is something that would have been very hard to do on my own," she said.
As part of the Launch Pad program, students from WSU's International Business Program have created a four country Market Feasibility Study for bVitra, and 180 Degrees Consulting has undertaken further research to create a Business Development Plan.
"And it was Launch Pad who alerted me to the opportunity to apply for the APEC business Forum. I now have the opportunity to meet with SME's from all over the world and explore the potential for business alliances and re-seller relationships. I'm also looking forward to learning more about the Chinese culture and the growing demand for Australian made complementary and alternative medicines."
Lila has also found simply being in the Launch Pad space at Werrington beneficial.
"I love the buzz of being around entrepreneurs, it's so intellectually stimulating," she said. "I come from a corporate background, but I was out of the workforce for 12 years while I raised my family. It's been so good to be supported to bring my business idea to life. I've gained so much confidence."
Penrith itself, and the future aerotropolis, could also boost the possibilities for bVitra.
"My business is still in its early stages, but eventually I'll need to have a facility near an airport to allow for export," she said. "Western Sydney and Penrith offer a lot of opportunities."
Watch this video to learn more about Bvitra and the Launch Pad program.
Image: Bvitra founder, Lila Bate, creates wellness products that help relieve arthritis, aches and pains, disturbed sleep and anxiety.