Compost for a changing climate through your household FOGO-bin
Details

Written by

Rochelle Burr

Penrith City Council

(02) 4732 7777

(02) 4732 7958

council@penrithcity.nsw.gov.au

https://www.penrithcity.nsw.gov.au

601 High St

Penrith

NSW

2750

Australia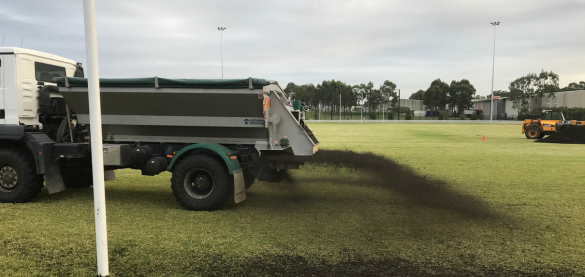 Thursday, 4 May 2023
The effect of the changing climate is evident through the ongoing occurrence of significant climatic weather patterns and conditions that continue to increase across the world.
Australia has experienced the impact of this through increased droughts, bushfires, and severe rainfall in recent years and noticeably at a local level in Penrith. 
As a community, households in Penrith can help make a difference in reducing the emission of greenhouse gas simply by putting green waste into their Food Organics Green Organics (FOGO) bins at home. The bin accepts items such as grass clippings, leaves, fruit and vegetable scraps, meat and bones. 
Penrith Mayor Tricia Hitchen expressed that Council is really impressed by the community's consistent FOGO efforts. 
"Our residents have embraced this innovative and environmentally responsible waste collection service and continue to separate their food and organic scraps week after week," Cr Hitchen said. 
"Their use of the green-lidded FOGO bin is now second nature, with 335,540 tonnes collected since 2009, which has been composted and ultimately saved from landfill." 
"International Compost Awareness Week from 7 to 13 May is the perfect time to remind residents about the benefits of this scheme." 
Material collected from Penrith's FOGO bins gets recycled and converted to compost and used in local farms, parks or sports fields. By returning nutrients back to the soil through composting, we can improve plant health and promote biodiversity, rather than letting organic waste rot away in landfill. 
The environmental benefits of FOGO material composting include:  
Reduction of the amount of organic waste that goes to landfill and offsetting methane gas emissions in the environment.  
Improving drainage and aeration in the soil.  
Producing a nutrient-rich soil.  
Providing essential nutrients for plant growth.  
Retaining soil moisture.
Reducing plant diseases and pests.  
Reducing the heat island effect in urban areas.  
Recycling organic material waste in our FOGO bins has many positive outcomes and together, we can work to reduce the impacts on our changing climate.
International Compost Awareness Week (ICAW) runs from 7 to 13 May. This is a week the community is encouraged to embrace the importance and benefits of composting.
Information contained within this news release was correct as at Thursday, 4 May 2023.