Penrith Council plants 10,000 plants with Greening Australia and Amazon Australia
Details

Written by

Jeremy Bentvelzen

Penrith City Council

(02) 4732 7777

(02) 4732 7958

council@penrithcity.nsw.gov.au

https://www.penrithcity.nsw.gov.au

601 High St

Penrith

NSW

2750

Australia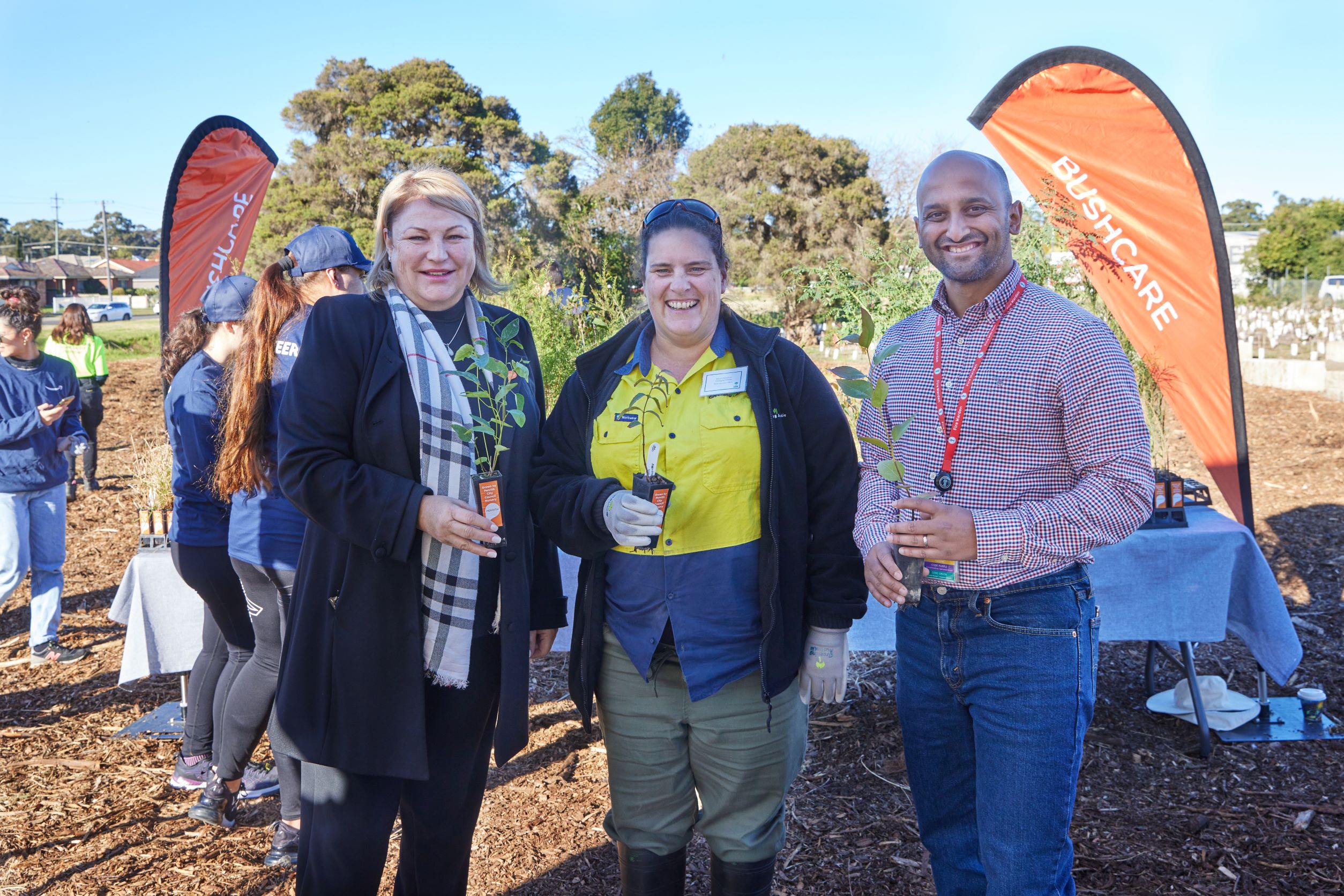 Tuesday, 14 June 2022
Penrith City Council has partnered with Amazon Australia and Greening Australia to plant 10,000 native trees, shrubs grasses and wildflowers in the Penrith Local Government Area (LGA).
This week, Council and Greening Australia hosted a planting day at Millen Street in Kingswood where 30 Amazon volunteers from its new Western Sydney fulfilment centre planted 600 native species grown by Council's nursery. The other 9,500 plants will be planted by Greening Australia at Kurrajong Road in North St Marys later in the year.
The planting is a continuation of Council's conservation initiatives and events that have seen residents and Council staff plant over 5,000 trees and plants as part of the Bushland planting program over the last 12 months.
Penrith Mayor Tricia Hitchen praised the planting partnership and the opportunities Council has undertaken to educate the community, including local businesses.
"I'd like to thank the volunteers from Amazon Australia and Greening Australia's staff for joining our Bushcare team for a great day last week," Cr Hitchen said.
"It was great to see everyone come together and share experiences and advice on how to best conserve our local environment and the benefits of planting native species has for our wildlife, such as providing them with food, protection and habitat for native.
"As part of Council's Cooling the City Strategy, we have identified that planting trees and plants, such as the ones that we have installed at Millen Street, is a great way to not only increase habitat for our wildlife, but also cool the community with additional shade," she continued.
Penrith Council's Bushcare team hosts a variety of tree planting and weed removal events throughout the year as part of their Bushcare program's conservation efforts. Check out what's on in your area and register your attendance at penrith.city/events
Photograph courtesy of Amazon Australia. (L to R) Penrith Mayor Tricia Hitchen, Greening Australia's Nicola Masters, and Amazon Australia leader of Amazon's new fulfilment centre Sid Yadwad.
Information contained within this news release was correct as at Tuesday, 14 June 2022.