Public artwork shines light on City's resilience
Details

Written by

Leann Chowdhury

Penrith City Council

(02) 4732 7777

(02) 4732 7958

council@penrithcity.nsw.gov.au

https://www.penrithcity.nsw.gov.au

601 High St

Penrith

NSW

2750

Australia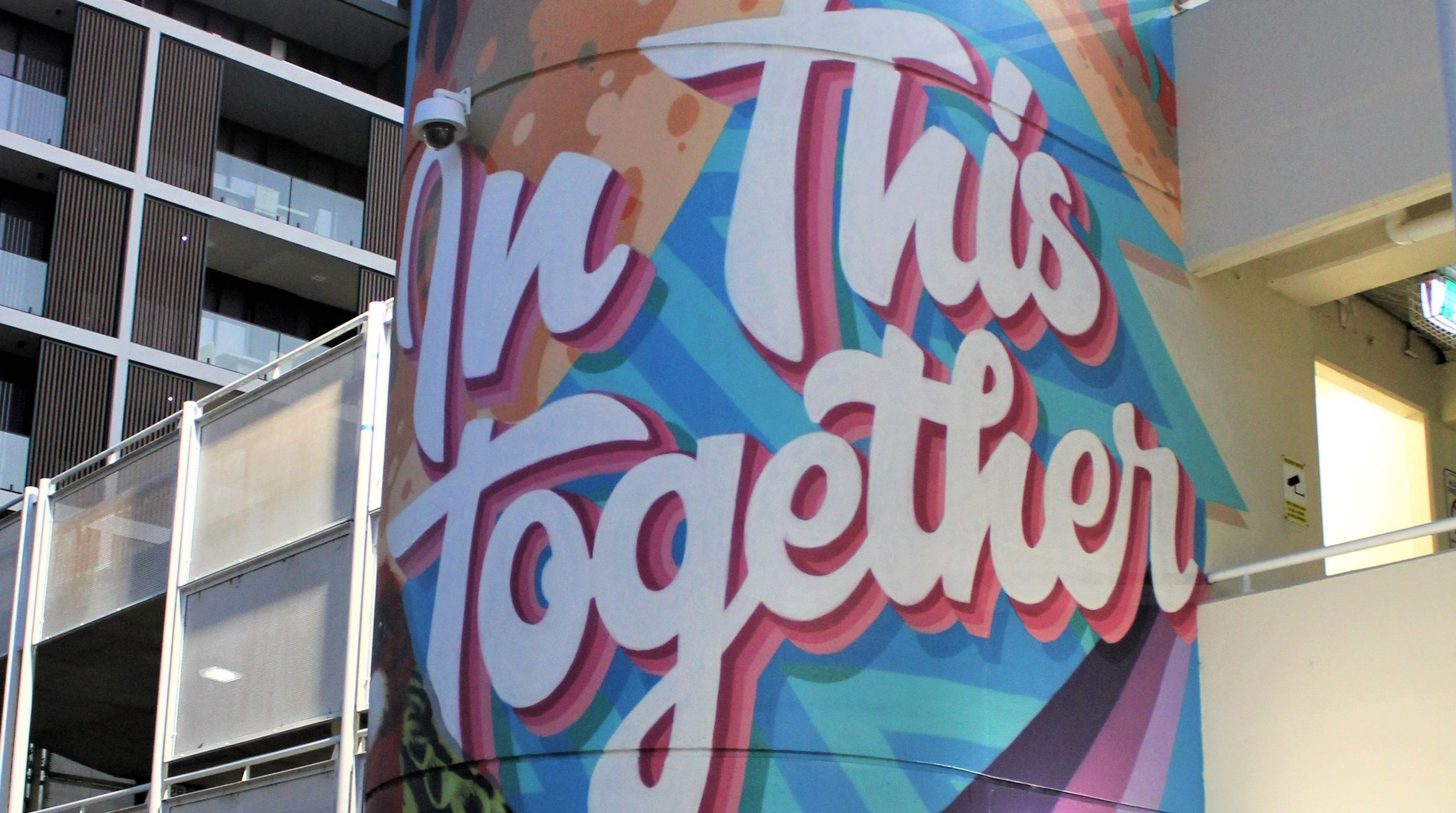 Friday, 22 April 2022
Community members are stopping to admire a vibrant, new piece of art in the Penrith CBD which has a heartwarming meaning behind it.
The intricate mural at Judges Place Car Park, on the pedestrian entry via Union Lane, is a representation of our City flourishing again following the COVID-19 lockdowns.
Penrith City Council recently recommissioned the same local artist who delivered the 'We Got This' artwork along Charles Hackett Drive in St Marys in late 2021, to deliver an equally symbolic piece in Penrith.
With similar colours and bold statement pieces, the latest artwork reads 'In This Together' and features butterflies, native birds and flowers in bloom across two external pillars of the car park.
Penrith Mayor Tricia Hitchen said the nature-themed mural shone a light on how resilient the community has been, and how far our City has come in recent months.
"While our City was hit hard by the pandemic and its associated lockdowns, it is so pleasing and reassuring to see residents out and about, filling our streets and supporting local businesses. We know that the recent rains and floods have impacted many people but again, our community spirit is shining through," Cr Hitchen said.
"Council hopes that the public can now enjoy this colourful artwork on a deeper level, knowing it is our way of acknowledging the strong spirit of our community."
The mural captures the attention of passers-by during the day and at night it is illuminated by the LED lighting in the Judges Place Car Park.
The artist, Paul Zoeller of Western Sydney Murals, worked with an assistant to deliver the piece over four weeks.
He said many people visiting and working in Penrith had shared their thoughts about the mural but the emotional response of one person had stayed with him.
"One lady came up to me and expressed her gratitude for the mural – she had been having an especially tough time and thanked me for brightening the space up and said it was exactly what she needed," Paul said.
You can take a behind-the-scenes look at the two-part piece as it was being brought to life in Union Lane by clicking here or visiting facebook.com/westernsydneymurals.
Information contained within this news release was correct as at Friday, 22 April 2022.