Jordan Springs name change
Details

Written by

Philippa Borland

Penrith City Council

(02) 4732 7777

(02) 4732 7958

council@penrithcity.nsw.gov.au

https://www.penrithcity.nsw.gov.au

601 High St

Penrith

NSW

2750

Australia

The formal suburb name change for the Central Precinct of the St Marys Release Area changed from Llandilo to Jordan Springs on 22 November 2019.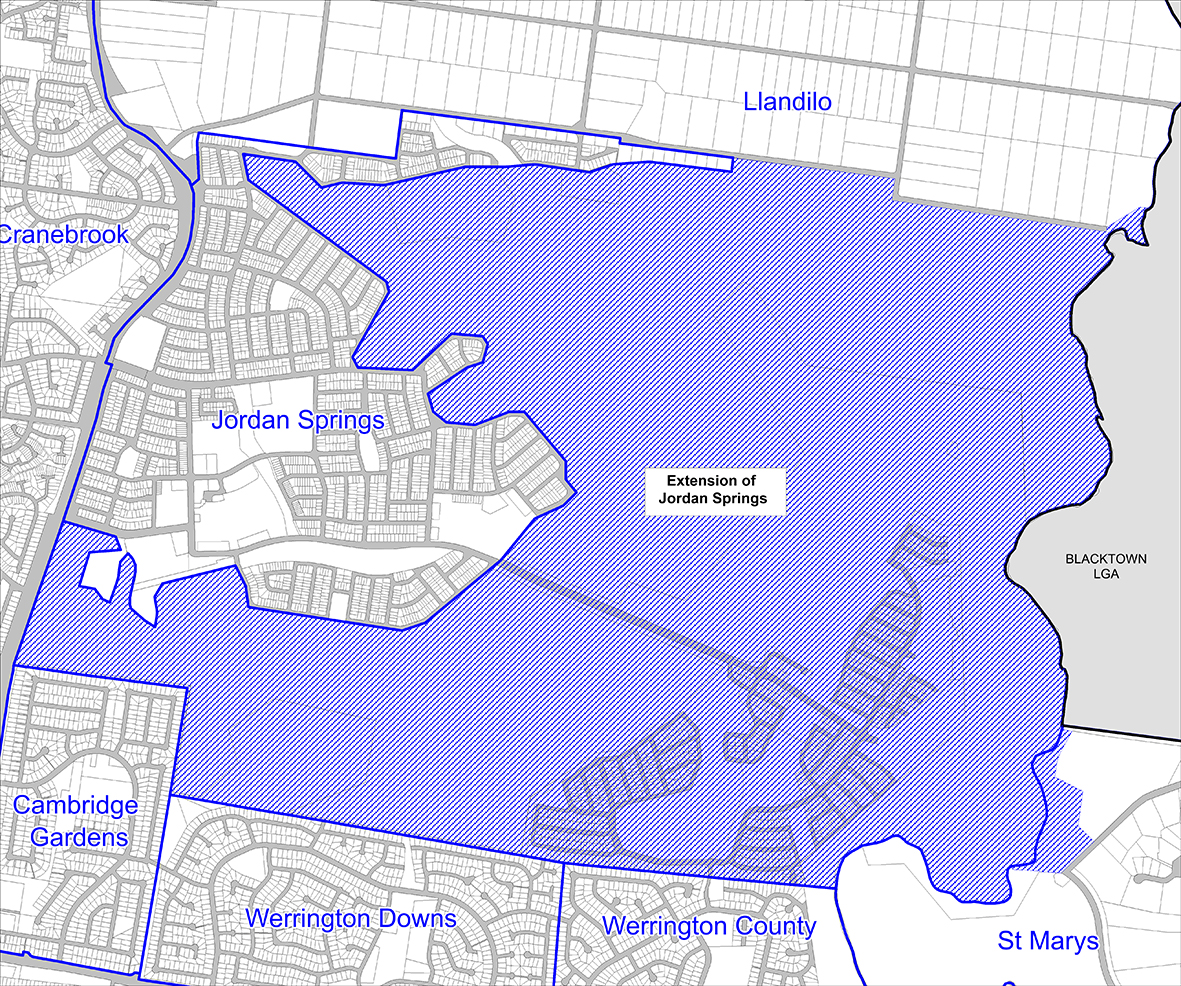 What do I need to do?
If you are in the expansion area, the most important thing to do is make sure that everyone you are in contact with is aware of the change. Just like when you move house, you need to make sure all those you do business with know your new address. Emergency Services have been formally notified.
What area changed?
The Central Precinct was previously located in the rural suburb of Llandilo, a historic arrangement that existed prior to the development of the release area.
The boundaries of Jordan Springs extended to incorporate the area known as 'Central Precinct' of the St Marys release area, the surrounding areas of open space and Wianamatta Regional Park.
Has my postcode changed?
Only the name of the suburb has changed. The postcode (2747) stays the same, as do the street names and suburb layout.
Why were the changes implemented?
The development of the Central Precinct is underway but new suburb arrangements were not settled prior to development commencing. The current arrangement, with no road connecting Llandilo to the Central Precinct, is causing confusion for residents, visitors and the emergency and postal services. It is also affecting property valuations and insurance arrangements. These issues triggered the need to consider new suburb naming arrangements.
Who is the authority for Suburb Names and Boundaries?
Under the Geographical Names Act 1966, the Geographical Names Board (GNB) is responsible for assigning suburb names, determining their extent and publishing their details in the NSW Government Gazette.
The role of Local Government in suburb naming and boundary changes is to communicate proposals with residents, request submissions and comments, review submissions and provide information for Council elected representatives to make an informed decision. Resolutions of Council are provided to the Geographical Names Board to make a final decision on proposals.
Who do I need to notify of my new address?
Many authorities will update your property or supply address after Council has notified them; however, they need to be contacted by you to update your mailing or billing Address. It is recommended you use the following checklist as a guide to update your Address: -
childcare
education – school, TAFE, university, tertiary institutions
employer
energy services
family & friends
financial services – banks, credit unions, accountant
health services – doctor, dentist, physiotherapist, optometrist, etc
insurance services
internet services
legal representatives – lawyers, solicitors, etc
loyalty programs & store cards
mail order catalogues, newspaper & magazines
mobile phone services
MyGov – Taxation Office, Centrelink, Medicare, child support, seniors
pay TV services
real estate agent – advise tenants, etc
Roads and Maritime Services NSW – licence and vehicle registration
superannuation services
toll tags – e-toll, e-tag
veterinary services
water and sewage services
Which Authorities have GNB and Council notified?
Penrith City Council and the GNB have notified authorities of your suburb change, including: -
AGL Sydney
Australia Electoral Office
Australia Post
Ausway
Endeavour Energy
Jemena
Mapping databases (e.g google)
NBN
NSW Ambulance
NSW Fire Brigade
NSW Police
NSW Rural Fire Services
NSW Volunteer Rescue
Origin Energy
PSMA
SES
Spatial services
Sydney Water
Telstra
Tom Tom
Valuer General
When does the title get updated for my property?
For title enquiries, contact NSW Land Registry Services on 1300 052 637 or email: This email address is being protected from spambots. You need JavaScript enabled to view it.
A title is only accurate at the time it is registered, any suburb or address changes that occur after being issued will not be updated on the title.
Will the change affect my property value?
There is no evidence to support property values will be impacted by the changes. For any enquiries please contact the Valuer General on 1800 110 038 or email This email address is being protected from spambots. You need JavaScript enabled to view it.
Updates to Google Maps and Apple Maps
Penrith City Council is aware many customers use online map services such as Google Maps or Apple Maps and ongoing efforts to locate a direct contact for these large international companies has unfortunately not been successful.
Council is working to notify Google and spatial services to update the suburb name change.
Ordering and delivery of parcels
When ordering products and services, it is recommended to include a statement that your suburb has recently changed in the additional information section often provided online. This will ensure the company is aware of the suburb change and assist with the delivery of the product to the correct address.
To assist with changing over to your new suburb, Australia Post has agreed to recognise both your old and new suburb for approximately six (6) months until 22 May 2020.
During this six (6) month period, Australia Post will continue to deliver your mail if it is addressed to your old suburb, however you must update your contacts with your new address as soon as possible.
Updates to Suburb & Street Signage
Council is working with the developer to update street signs to reflect the suburb name change.