On-call Waste Collection
Details

Written by

Adam Gatt

Penrith City Council

(02) 4732 7777

(02) 4732 7958

council@penrithcity.nsw.gov.au

https://www.penrithcity.nsw.gov.au

601 High St

Penrith

NSW

2750

Australia

How to book a cleanup
All households with a domestic waste service can book up to 4 free clean up collections each calendar year to dispose of bulky household waste. Before booking a clean up collection, look into recycling options and consider donating usable items to charity, selling items or giving them away. For more information, see the A-Z of Waste and Recycling
To book a clean-up, call 4732 7777. There is generally a minimum 2-4 week wait - please plan ahead and call early, especially if you need the waste removed prior to a particular date (such as the end of a rental lease). Busy periods such as around Christmas, Easter and school holidays may have a 4-8 week wait.
Items can be placed on the kerbside in a tidy and safe manner the day before the scheduled collection. Each clean up collection is limited to a 1.8 x 1.2m (4 x 6 ft) box trailer load. Please note that there are 4 separate truck to collect organics, mattresses, whitegoods and general household waste - keep this in mind when booking your clean-up collection.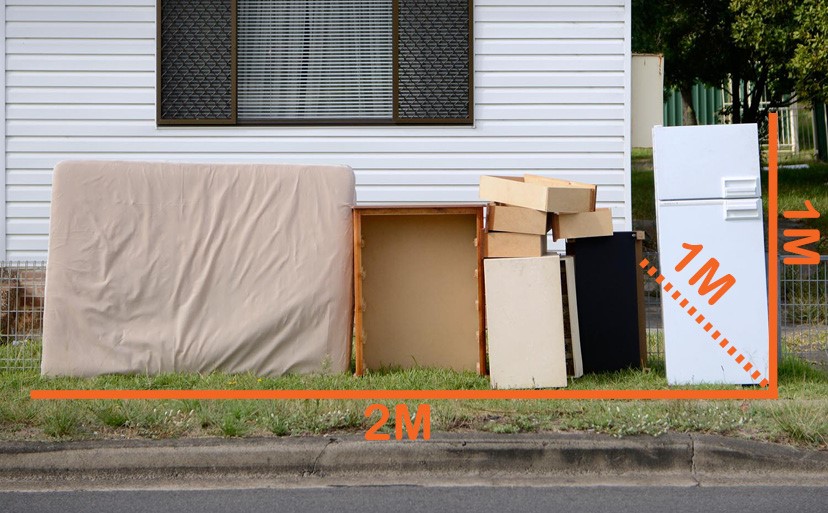 We can collect
Unwanted or broken household items such as clothing or toys - must be bagged or boxed
Broken or unwanted furniture
Mattresses (limit of 2 per clean up)
Whitegoods
Garden clippings (bagged or boxed)
Tree branches up to 10cm diameter and up to 1.2 m lengths, tied in manageable bundles.
We can't collect
Building materials, demolition or renovation waste such as bricks, concrete, tiles, fibro/asbestos*, sinks, baths, gyprock, fence palings and roof sheeting
Car parts of any kind
Liquid, trade or industrial waste
Household kitchen waste
Tree stumps
Large oversized items such as spa baths
Hazardous waste including gas bottles and car batteries
Large glass items such as fishtanks or mirror panels
For further information on how to dispose of these items, see the A-Z of Waste and Recycling
* View information on Asbestos safety.