Tree Planting in Erskine Park Addresses Urban Heat
Details

Written by

Teela Griffin

Penrith City Council

(02) 4732 7777

(02) 4732 7958

council@penrithcity.nsw.gov.au

https://www.penrithcity.nsw.gov.au

601 High St

Penrith

NSW

2750

Australia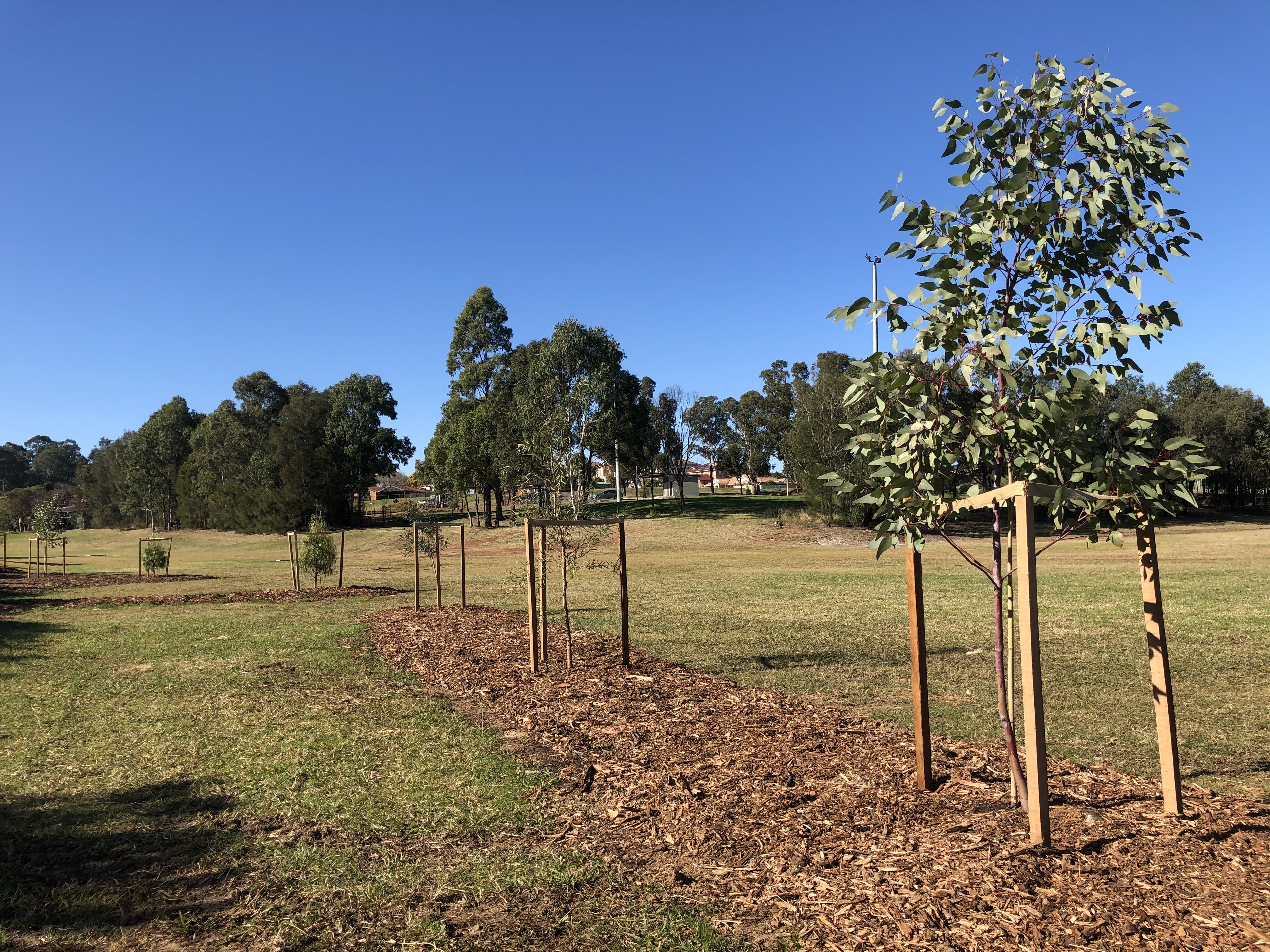 At Chameleon Reserve in Erskine Park, the microclimate is about to change.
340 trees were planted in the autumn and winter of 2020, in line with Chameleon Reserve's Masterplan and Council's Cooling the City Strategy. The mixture of tree species includes Australian native Narrow-Leafed, Broad-Leafed and Rough-Barked Apples; numerous Eucalyptus species such as Wilgas; Bottle Brush, Melaleucas and Kurrajongs; as well as spectacular Flame Trees, Jacarandas and Chinese Elms, among many others.
The trees chosen are diverse and hardy. Some are deciduous, and will lose their leaves in the colder months, while the non-deciduous varieties will provide shade all year round. Parts of the park can become waterlogged, while other parts along the ridges can be very dry. Council's landscape architects chose a variety of species which ensures the canopy will survive in rising temperatures and climate variations.
The trees will create a framework of shade, cooling and amenity for users of future paths in the park. Heat mapping of the area was carried out as part of the 2015 Erskine Park Heat Assessment Report, which concluded that tree planting would have a cooling effect – not only on the park, but on surrounding residences too. Research from Western Sydney University has shown that green infrastructure such as trees, grass and other cooling features can help to reduce the 'feels like' temperature by over 15 degrees.
The trees will be maintained for the next 12 months, to ensure they are established and thrive for years to come. Penrith Council was recently awarded funding of $150,000 under the NSW Government's Five Million Trees for Greater Sydney Grant, towards the cost of planting and maintaining these new trees. Council is co-funding the remaining $150,000 for the project through funds derived from the Open Space Reinvestment Project, which continues to improve open spaces in Erskine Park. This project builds on other recent works creating a cooler Penrith City, including the Living Places street tree project in St Marys, and numerous others aimed at increasing shade cover at sporting fields, playgrounds and recreational spaces across Penrith City.