Our Changing Backyard
Details

Written by

Teela Griffin

Penrith City Council

(02) 4732 7777

(02) 4732 7958

council@penrithcity.nsw.gov.au

https://www.penrithcity.nsw.gov.au

601 High St

Penrith

NSW

2750

Australia

Police Cottage Set to Become Vibrant New Dining Destination
By the end of 2022, a visit to Regatta Park could also include a bite to eat at the historic Police Cottage. The project recently received Development Application approval and construction is expected to commence in early 2022 to transform the site into a café and restaurant, with outside seating that offers diners magnificent views of the Nepean River.
Thanks to the Crown Lands Trust for responding to Council's request to transform this site, the century-long history of the building will be open to the public for the first time, ensuring this important local heritage feature is celebrated, conserved, and enjoyed for generations to come.
"We want residents and visitors to be able to enjoy this piece of our history, and by giving it a living, working role today, we'll be able to preserve the site for future generations," says Council's General Manager Warwick Winn.
Originally built in 1908 and located adjacent to the Yandhai Nepean Crossing, the Police Cottage will be sensitively restored by Council to blend heritage and modern dining.
In June 2021, Council conducted a formal Request for Tender for a hospitality operator for the Police Cottage. The successful applicant will be announced later this year, with the next tender process, for a construction partner specialising in heritage refurbishments now underway.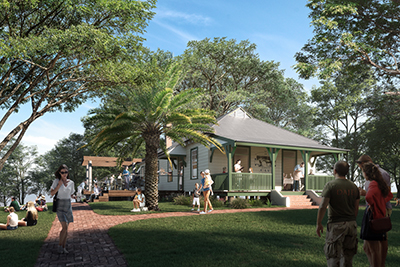 Artist's impression of the completed Police Cottage renovation
You may be able to book a table at the Police Cottage sometime in late 2022, giving us all something to look forward to. For more information visit penrith.city/policecottage