Specialist centre to tackle cancer
Details

Written by

Stephanie Loobeek Wood

Penrith City Council

(02) 4732 7777

(02) 4732 7958

council@penrithcity.nsw.gov.au

https://www.penrithcity.nsw.gov.au

601 High St

Penrith

NSW

2750

Australia

Construction is well underway on Penrith's newest specialist centre, further demonstrating the strength of The Quarter as a dedicated health and education precinct.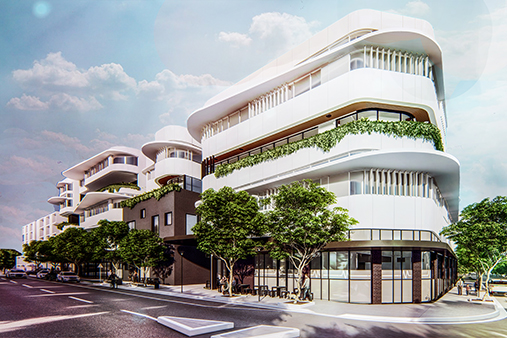 Somerset Specialist Centre is expected to be completed later this year and will help meet the need for a faster treatment of diseases with a focus on cancer treatment.
Plans include four operating theatres, 16 private rooms, day treatment facilities, a radiation therapy linear accelerator and a wide range of diagnostic services.
DPA Health is developing the new complex. Managing Director Jonathan Edelstein said Western Sydney's rapid population growth has led to a strain on existing services, meaning some people travelled outside the region for treatment.
GenesisCare's General Manager of Oncology in NSW, Dr Kathy Kociuba, said in areas where demand for health services was high, specialist private providers can help to offer rapid access to highly respected clinicians, treatments and research programs.
"Over the past decade we have witnessed huge population growth in Western Sydney. The Somerset Specialist Centre will provide local cancer patients with greater access to world-class cancer treatment, where and when they need it, and will alleviate some of the pressure on local health services," Dr Kociuba said.
"For someone with cancer, the last thing you want to think about is having to hop in the car and travel for hours on end to receive access to potentially life-saving treatment.
"Travelling for treatment can take a huge emotional, physical and financial toll on cancer patients, during what is already an extremely stressful time in their life. At the Somerset Specialist Centre, Western Sydney locals will have better access to high quality integrated cancer care at their doorstep."
Mr Edelstein said more options for treatment in the area will mean an overall reduction of demand for public health resources.
"It will encourage more patients to seek medical treatment. Early management of disease plays a large role in lessening the overall morbidity in the community."
He said the hospital industry needs a strong private sector working alongside the public health system to provide high quality service.
"The private sector plays a vital role in helping to attract and retain many doctors to the area as well as assisting the public system in treating many patients.
"Already the theatre schedule is filling quickly with requests for cancer and elective surgery.
"And the growing population and demand for medical services together with the high-quality new facilities at Somerset Specialist Centre is generating a high level of interest from new and established specialists," Mr Edelstein said.