Penrith wins on infrastructure spending
Details

Written by

Stephanie Loobeek Wood

Penrith City Council

(02) 4732 7777

(02) 4732 7958

council@penrithcity.nsw.gov.au

https://www.penrithcity.nsw.gov.au

601 High St

Penrith

NSW

2750

Australia

Billions of dollars are pouring into Penrith with a number of major infrastructure projects announced during the recent State and Federal election campaigns.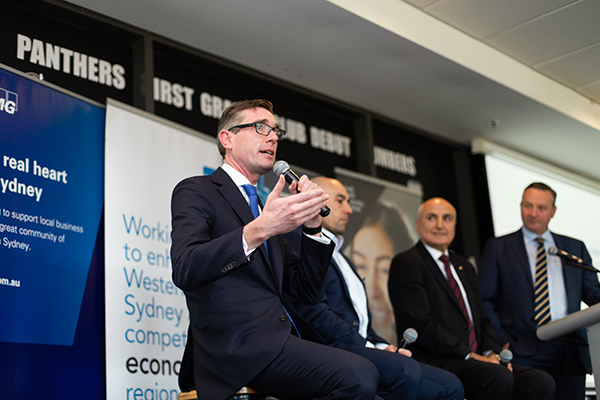 The role of the New West in Sydney's future was reinforced by a visit to Penrith by NSW Treasurer Dominic Perrottet during Budget week.
Mr Perrottet and the Member for Penrith and Minister for Jobs, Investment, Tourism and Western Sydney, Stuart Ayres spoke at a Budget Breakfast for leading businesses and community representatives.
Mr Ayres told the audience confidence was particularly high in Penrith, with unemployment at 3.5%, a drop from 6.4% in 2010.
"This comes from a strong economy and our $93bn infrastructure spend, including $20bn state and public infrastructure investment in construction or development west of the M7," he said.
More than $6bn was announced in funding during the recent State and Federal election campaigns to benefit Penrith in line with community aspirations for our City with funding for parklands, sporting facilities and key roads. The funding commitments include $5.5bn announced by the State and Federal Government for Stage 1 of the North South Rail Link which will connect the aerotropolis at St Marys, new commuter carparks at Emu Plains, Kingswood and St Marys and $10m for Tench Reserve.
Photo: NSW Treasurer Dominic Perrottet took part in a panel discussion at the Budget Breakfast in Penrith by Chris Gray Photomedia