Long history sets scene for transport hub
Details

Written by

Stephanie Loobeek Wood

Penrith City Council

(02) 4732 7777

(02) 4732 7958

council@penrithcity.nsw.gov.au

https://www.penrithcity.nsw.gov.au

601 High St

Penrith

NSW

2750

Australia

St Marys' history in the transport industry will culminate with its new role as the heart of a major public transport hub once the region's North South Rail is built.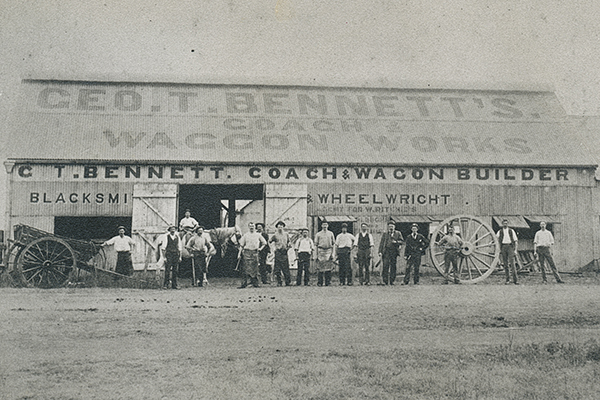 Trains, horse drawn wagons and a resting point for long-distance travellers featured strongly in its past.
Western Sydney Business Access reports that from the 1860s, St Marys functioned as a staging post along the Great Western Highway. Its train station opened in 1862 and became the interim terminus of the Main Western line. The township also had a small manufacturing industry making horse-drawn wagons, right up to 1958 to meet the growing demand for transport in Sydney.
Now, St Marys will become a major public transport corridor with the North South Rail line linking up with the T1 Western Line at a massive St Marys Interchange, forming the start of a future rail line across Sydney.
To read the full story click here
Image: George Bennett's wheelwright and blacksmith's workshop (circa 1875) was part of Penrith's early forays into transport. Penrith City Library - Albert Evans Collection.