First glimpse at new airport
Details

Written by

Stephanie Loobeek Wood

Penrith City Council

(02) 4732 7777

(02) 4732 7958

council@penrithcity.nsw.gov.au

https://www.penrithcity.nsw.gov.au

601 High St

Penrith

NSW

2750

Australia

While the official visitor's centre won't open until September, community groups are already getting a first glimpse at the site preparations for the Western Sydney International (Nancy-Bird Walton) Airport.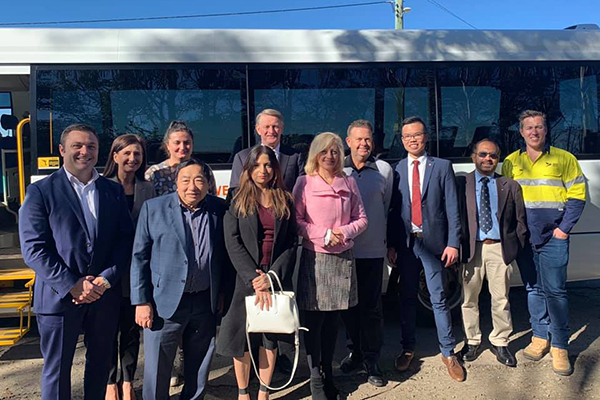 Community groups now have the opportunity to hop aboard the Western Sydney International Airport Shuttle bus for a firsthand look at the construction of one of Australia's biggest infrastructure projects. Major earthworks are currently underway, preparing for the future airport site, levelling the ground in some areas by 41 metres from the highest point to the lowest. One of the first priorities has been the site for the future Airport metro station, part of the transformative North South Rail Link.
Last month, Western Sydney Airport marked a major milestone, having moved a mammoth one million cubic metres of earth on site. WSA Chief Executive Graham Millet said great progress is being made on the project, but there's plenty more to be done.
"We are one million cubic metres of earth down, meaning we still have a whopping 21 million to go," Mr Millet said. "That's enough earth to fill 8,800 Olympic swimming pools."
Mr Millet described levelling the hilly 1,780 hectare site as one of the biggest earth moving projects in Australian history and visitors now have an opportunity to see the scale of the project for themselves with tours of the site being made available to community groups.
Western Sydney Airport Chief Executive Officer Graham Millett said community groups, such as local Probus and Rotary Clubs, can now register their interest to take a guided bus tour of the airport site.
"We're excited to have community members on board, giving them the opportunity to get up close and watch Western Sydney International come to life," Mr Millett said.
"The tour uses an iPad audio-visual presentation to provide insights into the history of the project and how it will bring jobs and opportunities to the region."
"Passengers will be shown key locations, including earthwork zones, the soon-to-be-opened Experience Centre and the runway location."
"Construction is well underway on what is one of Australia's biggest ever earthmoving projects and it's great that the community can now start seeing the progress being made here in Western Sydney."
Interested community groups can jump online and register their interest at This email address is being protected from spambots. You need JavaScript enabled to view it.