Brimming with health – The Quarter comes to life
Details

Written by

Stephanie Loobeek Wood

Penrith City Council

(02) 4732 7777

(02) 4732 7958

council@penrithcity.nsw.gov.au

https://www.penrithcity.nsw.gov.au

601 High St

Penrith

NSW

2750

Australia

Penrith's multi-million dollar health and education precinct The Quarter, is beginning to take shape with plans for Cornerstone, a one-stop health destination, the expansion of Nepean Private Hospital and a specialist medical centre, Somerset, underway.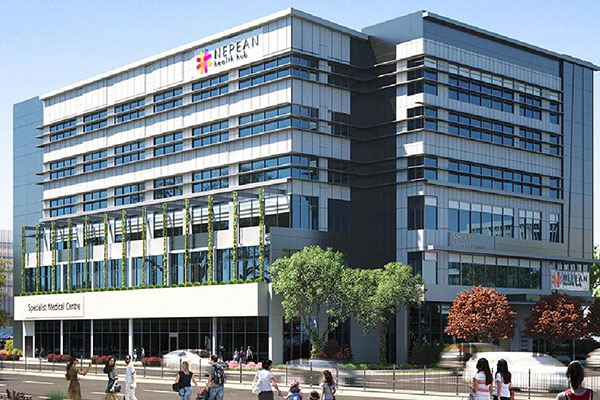 All three will complement the $1 billion redevelopment of Nepean Hospital.
One by one these projects are bringing The Quarter vision - to become an international destination for investment in health services, education, research and related technology - to life. Penrith will soon have one of the largest health and education precincts in Australia, aiming to create an extra 6000 jobs over the next ten years. Health and education is the highest-growing employment area in Penrith with 21,877 jobs or 25.50% growth in the sector over the past five years[1].
We also know:
In 2017 there were nearly 700 (699) businesses in the Health Care and social assistance sector in Penrith Local Government Area. (ABS 2016-2018)
This includes 117 new businesses established since 2014.
The Health Care and social assistance sector contributed $768.8 million value added to the Penrith economy in 2017-18. (NIEIR 2018)
This has grown by $130 million in five years from 2012-13. The majority of this growth (57%) has been in social assistance services.
The Quarter will serve a region where the population is growing and demanding more choice and opportunity, without having to travel. The simultaneous growth of both private and public hospitals will significantly strengthen health services in the region.
And with unprecedented levels of new infrastructure and investment including a new international airport, a new North South Rail corridor and major road upgrades, there's significant support for future growth in The Quarter.
Children 0-4 and people aged 65 and older make up the fastest-growing demand for health services in Penrith. Between 2001 and 2016 the number of children up to four grew by 12% and people aged 65-74 grew by 46%. (Penrith Community Profile 2018)
[1] Based on Penrith City Council's economic profile: https://economy.id.com.au/penrith/employment-by-industry

Nepean Teaching Hospital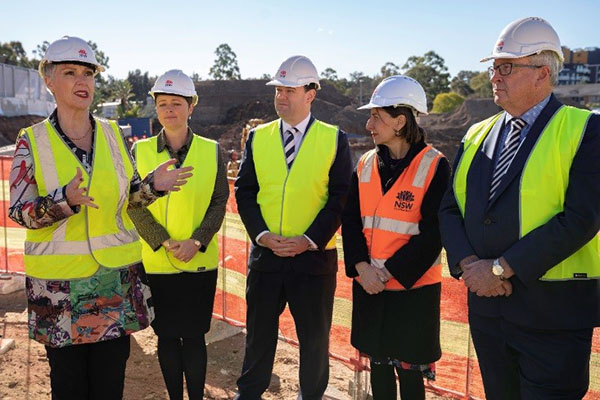 The centrepiece of The Quarter is the redevelopment of Nepean Hospital.
It's one of Sydney's busiest hospitals in one of its fastest growing regions and two key elements – a $26 million multi-deck carpark to support the hospital's expansion and a dedicated helipad – have just opened.
The hospital is being developed in two stages, with the NSW Government $1 billion. When finished, the first stage will include a new 14 storey clinical services tower, new and expanded emergency department, new and upgraded medical imaging, over 12 new operating theatres, 18 new birthing suites, a new Neonatal ICU, additional 200 overnight beds, new community health services and a new cancer clinic with an additional 15 chemotherapy chairs.
Work is also expected to start soon on a childcare centre for 68 children, with room for future expansion, to support staff and their young families.
Nepean Blue Mountains Local Health District Chief Executive Kay Hyman said the significant investment in the hospital is good news. "We have the opportunity for new models of care delivered in innovative ways, supporting both residents of the Penrith area, and through telehealth, to all residents of the Local Health District area and beyond."
It is 25 years since Nepean Hospital partnered with the University of Sydney to become a teaching hospital for medical students. It also partners with other universities to provide nursing and allied health training.
Health care and social services are the biggest industries in Penrith, generating 12,573 jobs in 2017-18. The past five years has seen 25.50% growth in the sector. Nepean Hospital is the biggest employer in the local government area.
The $1 billion investment in Penrith will ensure essential health services and infrastructure support our growing population.
Image: Kay Hyman, Chief Executive of the Nepean Blue Mountains Local Health District at the recent opening of the new helipad and carpark alongside Member for Mulgoa Tanya Davies MP and Member for Penrith the Hon. Stuart Ayres MP, NSW Premier Gladys Berejiklian and Health Minister Brad Hazzard.
Built for population growth
Right next door to the city's public hospital, construction is about to start on the $30 million expansion of Healthscope's Nepean Private Hospital, with completion expected in just over a year. Healthscope's goal is to double the capacity of the hospital within the next decade, allowing for future expansion as the population grows. To read more about Penrith's population growth click here.
It includes a dedicated two-theatre state-of-the-art endoscopy suite, which will free up the main operating theatres allowing an improved surgical case-mix. The hospital expansion will also increase its day procedure capacity and meet the growing demand by doctors for consulting rooms.
Healthscope Acting Chief Executive Officer Len Chersky, said the hospital's presence was an investment in the region's growth.
"Western Sydney is one of Australia's major growth corridors and the location of Nepean Private—with a direct link to nearby Nepean Public Hospital—positions it perfectly to be a vital future healthcare provider in the region," he said.
"The simultaneous growth of both the private and public hospitals will substantially strengthen healthcare provision in Western Sydney." Healthscope Acting CEO Len Chersky.
All under one roof
Cornerstone's Nepean Health Hub will be one of Western Sydney's newest medical centres, with a "one-stop-shop" approach to health care.
Cornerstone Building Developments director Simon Heazlewood said the centre will provide health services from general practice to specialist areas in allied health, mental health, diagnostic imaging, dental, pharmacy, skin disorders and research, all under one roof.
"We know the best outcome for a patient is when the various practitioners work in partnership to align their decisions with the needs and preferences of the patient. That's what we hope to achieve," he told the Western Weekender.
The six storey building will include basement parking for more than 180 cars.