Boots and all
Details

Written by

Stephanie Loobeek Wood

Penrith City Council

(02) 4732 7777

(02) 4732 7958

council@penrithcity.nsw.gov.au

https://www.penrithcity.nsw.gov.au

601 High St

Penrith

NSW

2750

Australia

It's only been running for eight months from its Penrith site, but the award-winning Productivity Bootcamp program has already helped many young people become job-ready for Western Sydney's booming construction industry.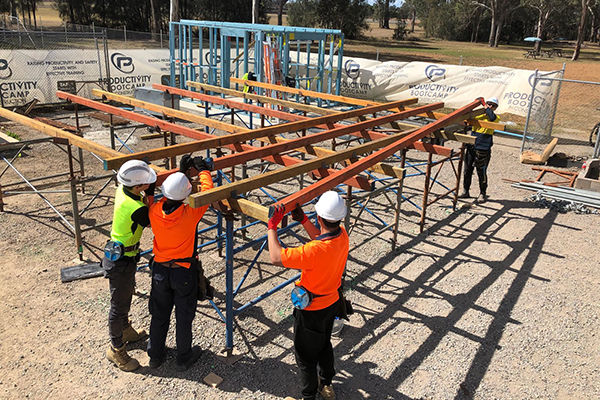 The program has a high success rate with 87% of graduates taking up traineeships, apprenticeships and full-time employment.
The eight-week program gives young people practical skills in a dedicated construction yard. It teaches skills such as carpentry, formwork, concreting, bricklaying and roof tiling. Participants also learn the qualities sought after by employers in every industry – a good work ethic, communication, time management, problem-solving and initiative.
Penrith construction fast facts
Construction is one of our City's fastest-growing employment sectors and its second largest industry.
• It employed 11,849 people or 13.7% of local workforce in the five years to 2018.
• The number of Penrith's construction workers has grown by 4574 in the five years to 2018 or an average of 12.5% per annum.
• Demand for skilled construction workers across Western Sydney is growing in response to the development of Western Sydney Airport.
• Over 11,000 jobs are expected to be created in the construction, engineering and professional services industries by 2026.
• Development of new employment areas and growth in city centres as well as the new rail and road infrastructure will contribute to continued strong demand for jobs in construction in our region.
Photo: Productivity Bootcamp's training site in Penrith