Hart's Landing a winner all round
Details

Written by

Stephanie Loobeek Wood

Penrith City Council

(02) 4732 7777

(02) 4732 7958

council@penrithcity.nsw.gov.au

https://www.penrithcity.nsw.gov.au

601 High St

Penrith

NSW

2750

Australia

Evolve Housing, who worked to develop Penrith's Harts Landing, a mix of public and private housing in Lord Sheffield Circuit, has won three awards at the NSW Professional Excellence in Housing Awards.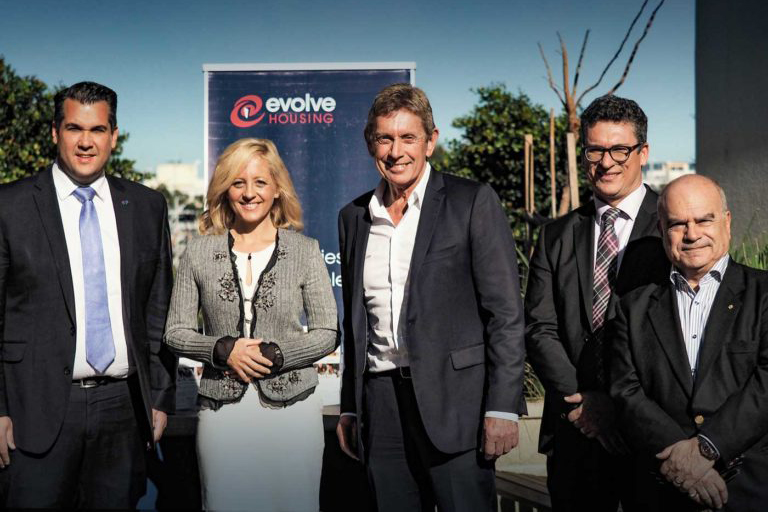 Evolve Housing was recognised for its impact in the social housing sector, winning the Leading Housing Development award for Harts Landing in Penrith, the Excellence in Social Housing award and the Inspirational Team Member award for senior manager, Charlie Souma's work with Evolve Housing's not-for-profit Echo Realty.
Echo Realty manages 1000 affordable properties, including Harts Landing. It regularly partners with developers to create similar developments or to create a percentage of affordable housing in private developments. Profits from its private property management service are reinvested into more affordable and social housing.
New Evolve Housing CEO Lyall Gorman said he was proud of the "spectacular result" in the awards.
"The common thread running through each of our nominations is the impact that our work has on our residents. We go above and beyond simply providing homes – we aim to enrich our residents' lives."
In Penrith, the expected social housing waiting time for a two-bedroom house or apartment is over 10 years, so mixed tenure developments like Harts Landing fill a gap in the housing spectrum by offering half of the available apartments to people needing affordable or social housing.
Evolve Housing owns 128 properties in Harts Landing, all of which were tenanted in less than eight weeks. Forty families have taken up affordable housing and four others have moved from social or transitional housing into the building.
"High housing costs can be crippling for working people on low to moderate incomes. High rents prevent families from being able to meet other basic living costs such as food, education, medical care and clothing," Mr Gorman said.
"We are very proud to be able to offer affordable housing opportunities to the wonderful people in the Penrith area. It would be terrific if we can extend that opportunity across the broader community and we would love to hear from people who are eligible to apply."
Evolve Housing is now a finalist in the Professional Excellence in Housing Awards to be decided next month.
Harts Landing also featured in the February 2019 edition of Urban Icon magazine and recently hosted Federal Housing Minister Michael Sukkar recently to see how one of the first community housing providers had delivered on their loan through the National Housing Finance and Investment Corporation (NHFIC).
Image: Federal Minister for Housing the Hon. Michael Sukkar (left) and Lindsay MP Melissa McIntosh toured Hart's Landing at Penrith recently with new Evolve CEO Lyall Gorman, CEO of the National Housing Finance and Investment Corporation (NHFIC) Nathan Dal Bon and NHFIC board member Tony De Domenico OAM.